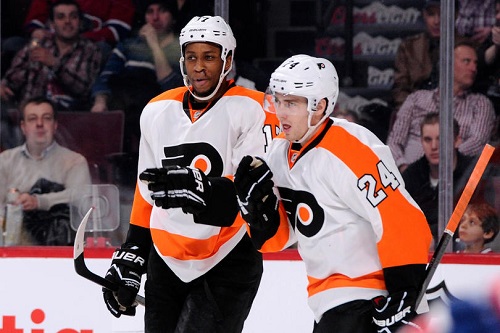 Matt Read has signed with the Flyers for another four years on a $14.5 million contract extension. Read all about it, this guy isn't likely going anywhere anytime soon.
Read is just one of many young Flyer players who has been signed fairly long term by general manger Paul Holmgren. This guy isn't messing around. Despite the trade rumors, Holmgren puts his faith in the 27-year-old Read and gives him the confidence he needs to succeed.
Jakub Voracek is signed to 2016-2017, Simmonds till 2019-2020, Claude Giroux is locked up to 2022. There is no arguing that the Flyers have one of the best young forward cores in the league. There isn't really another team in the NHL that can say the same aside from the Pittsburgh Penguins and the Edmonton Oilers.
The Flyers young offensive forward core is gushing with potential and the young guys aren't the only ones that make the team so dangerous. Scott Hartnell is signed to 2019-2020 and is poised for a bounce back year with the club. If Hartnell gets going again on that line with Voracek and Giroux, the Flyers could have one of the best top lines in the league for a long time.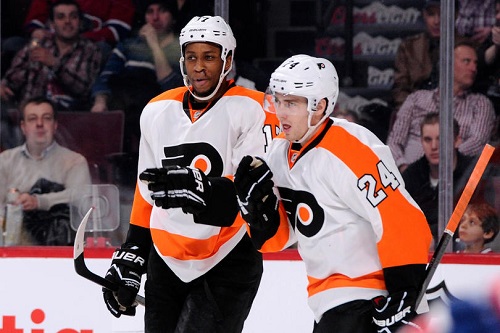 Veteran center Vincent Lecavalier is expected to center the second line and is signed to 2018-2019. Vinny is a fantastic addition to the second line and is locked up long term just like linemate Wayne Simmonds. There is no arguing how stable the Flyers are up front. Brayden Schenn will need to be extended after this season but that can't be considered a big obstacle compared to other team's trying to sign their top guns.
Sean Couturier recently signed a two year extension so the Flyers shouldn't have to worry about their third line anytime soon. The Matt Read signing also ends that worry.
There may be critics that say the Flyers paid too much for someone who will be playing on their third line. Don't listen. Just ask the Chicago Blackhawks how important third line players are. Each of the times the Hawks have won the cup of late, their third line played a significant role. Read can provide 20 goals on the third line and can be a key power-play contributor on the second unit.
If you have seen Read and his wicked shot, you know the Flyers didn't overpay for him. If anybody gets injured, Read is the type of player that can step up and take their place.
The Flyers offense is scary good and they will be dangerous for a long time. Not saying the same about the defense and goaltending but you can't have everything at one time.
Love Reading About Hockey?

Subscribe to keep up-to-date with the latest and most interesting hockey news!
| | |
| --- | --- |
| | We hate spam just as much as you |