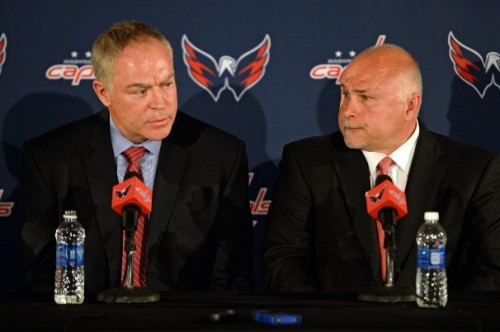 When the rumors of a head coach hire of Barry Trotz circled without a General Manager hire, the reality of a in-house promotion became increasingly imminent.
Brian MacLellan was promoted to General Manager last Monday, after joining the organization in 2000 as a part time scout. Seven years later he was promoted to Assistant Manager under George McPhee.
"I don't know if I could give specifics," Brian MacLellan said when asked how he differs from his former boss George McPhee. "He's a good friend. He's a character guy."
On the surface, the promotion seems like a continuation of the McPhee era, since MacLellan has served as McPhees right had man for the last couple of years. Many front office positions will remain unchanged. It was also questionable that it took the organization five weeks to promote MacLellan from interim General Manager to General Manager.
"I'll tell you that when we started the process that was not the intention in any way," said owner Ted Leonsis on whether the hire was a "rebuild" or "refresh". "We said we would be open minded and go talk to as many candidates as we could, which we did." he also added "[MacLellan] led off with some of the things I have to do to be a better owner," during his interview, praising his intellect and honest throughout. "I thought that was very brave and very astute because you don't want to hear things like that."
MacLellan has very little experience compared to the other General Managers the Capitals were rumored to be interested in. Ray Shero, who was fired by the Pittsburgh Penguins after recent playoff failures, has a Stanley Cup from the 2008-2009 season.
Ex-Captials employee Shawn Simpson had a field day on twitter after the MacLellan hire calling MacLellan "Lazy" and "not passionate". But for now we can only speculate how well MacLellan will do.