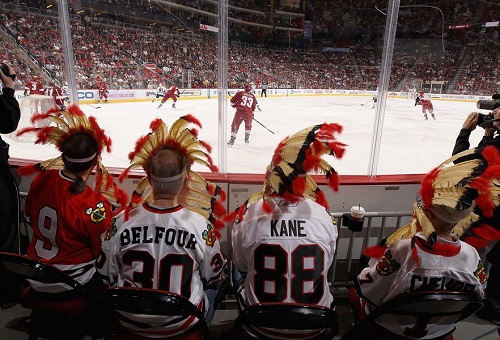 It's old news at this point that the Nashville Predators have unveiled a new strategy to keep Blackhawk fans out of their city.
"Keep the Red Out" is a strategy that forces fans to buy tickets to two different Nashville games if one of those tickets is for a game between the Predators and the Chicago Blackhawks.
There are three ways this could go.
1) No Blackhawk fans show up to any of the three games between Nashville and Chicago in Nashville on November 16, December 17, or April 12.
If no Chicago fan shows up to any of the games then there shouldn't be any red in the Bridgestone Arena that night. The strategy would have been successful, the red would have been kept out. However a lot more than just jerseys would be kept out of Nashville on those nights.
There also wouldn't be any red jerseys in concession lines, no red jerseys sitting at surrounding restaurant tables either before or after the game, and there wouldn't be any red jerseys in hotel lobbies. When fans, any fans, travel, they bring with them their wallets and proceed to buy on site. Keeping those fans away, keeps their cash away as well.
2) Some Blackhawk fans will show up, but not as many as did before.
The strategy may work at keeping the casual traveler at bay, but some of the die-hard, strategy-be-damned fans will still make the commute and find a way to snag tickets. Even if they have to buy a full-season package to do so.
These are usually the fans that show up in face paint and full Native American headdress. Not out of place on game-days in Chicago, but awkward in Tennessee among a sea of gold.
So yes, there may be a handful of these fans, but they'll be drowned out by the Predator Nation. (Predator-state? Predator-Village? What's their annual attendance again?)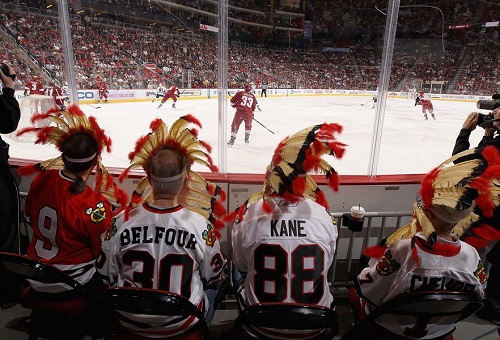 3) More Blackhawk fans will show up than ever before, changing the stadium from a sea of gold to a sea of red. Orange at best.
Chicago fans are passionate. Bears fans will stare down a blizzard to get seats at Soldier Field. Cubs fans will wait over a century to see a winning team. Blackhawk fans are no exception.
The Red-Out strategy has the potential to backfire if enough Blackhawk fans see the banishment as a challenge to overcome, a game to win. Especially if a lot of current Blackhawk fans are of the younger variety with spry and ambition to make frequent interstate sports outings.
Chicago fans may opt to get the multiple game packages, splitting the costs. They may take the extra Predators tickets and resell them, give them to friends or family, raffle them off at their local VFW, or just use them to go see another Predators game. It's not Blackhawk hockey, but it is pro-hockey.
Options one and three will end up being losing scenarios for Nashville on the whole, while the second option will be the only positive outcome. That's two to one in favor of Chicago. Perhaps the only time the odds weren't in favor of the house.
However, it is wise for Nashville to try to bring in more local fans and keep out more rival visitors. The jersey exchange program helps out sales, though nobody should expect a fan to exchange a Jonathan Toews jersey for a Shea Weber jersey, even if it is half off.
The option to give excess tickets to members if the military is a great move. No matter what jersey you wear, we all can agree that handing over tickets to a fun night of hockey to a service-member in uniform is a good idea.
But the truth is, while this may be a little boost to the sales in Nashville, it won't be a big deal to Blackhawk fans. This past season Chicago celebrated its 200th consecutive sellout crowd at the United Center. That pattern will continue.
Getting a Blackhawks ticket in Chicago is more difficult than scoring on Tony Esposito with a broken stick.
While blindfolded.
There is currently a waiting list to get Blackhawk season tickets. Chicago ticket sales won't move, so there's no need for a "Get the Gold (or any other color) Out" strategy for the Blackhawks.
Hopefully, this works out for Nashville. Otherwise the front office will have to revert back to focusing on the play on the ice instead of the colors in the seats.