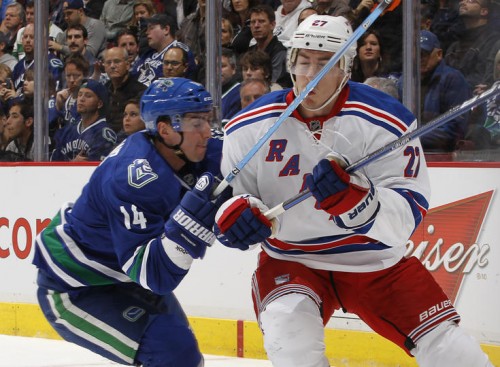 The New York Rangers were on their way to their franchise record 25th road victory this past Tuesday night against the Vancouver Canucks. With just under a minute remaining with a 3-1 lead, this happened:
As bad as that looked, the good news is that it was confirmed yesterday that Ryan McDonagh will be listed as "day to day", and that there was no structural damage to the shoulder. With only four games remaining in the regular season (with three of them against non-playoff teams), I don't anticipate McDonagh seeing any game action before Game 1 of the postseason. The Stanley Cup playoffs start on Wednesday April 16th. But with the New York Knicks closing out their regular season against the Toronto Raptors at Madison Square Garden on 4/16, the Rangers wouldn't start until Thursday 4/17 if they held on to home ice. That would give the Rangers blueliner over two weeks of recovery time. It hasn't been confirmed that he will be ready in time for the playoffs, but two weeks of rest for a sore shoulder should be enough to get him on the ice. Considering Mac was also a part of Team USA for the Olympics, any extra rest that can be had should be taken advantage of.
One thread I've seen going around was that the reaction among Ranger teammates on the ice towards Alex Burrows was subpar. The feeling among some of the fanbase is that more should have been done to Burrows. I understand the sentiment and agree that there should be retaliation, but that wasn't the time to do it. Defenseman Dan Girardi and winger Mats Zuccarello immediately mixed it up with Burrows and Canucks winger Zach Kassian, but that's all that needed to happen at that moment. There's no urgent message to send, because the Rangers and Canucks won't be seeing each other again this season (since Vancouver won't be making the playoffs). When the Blueshirts and Vancouver meet again during the 2014-15 regular season, Burrows will see his justice then. There's no need to risk someone getting a match penalty for instigating a fight with under five minutes to go, or maybe even a possible suspension if things had gotten really out of control.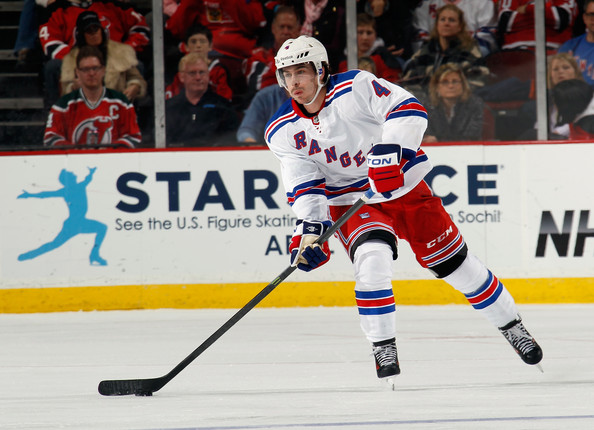 McDonagh's absence timed with John Moore's return from a concussion (suffered on 3/21 vs Columbus). Moore slid in to the newly vacant spot next to Dan Girardi, and scored the first goal of the Rangers 3-2 shootout loss to Colorado. Marc Staal and Anton Stralman continue to form one of the best second defensive pairings in the league, and Kevin Klein has proven to be a steady and reliable rearguard. Raphael Diaz, the fresh face on the blueline, has filled in admirably (1 goal, 1 assist, +5 in his seven games thus far). He's proving himself to be a good insurance policy should the Rangers suffer another injury among their defensemen (or if someone's performance deems a benching). He can move the puck, and isn't a liability in his own zone. You can't have too many reliable defenseman during the playoffs, and Diaz looks like he'll make a deep blueline deeper.