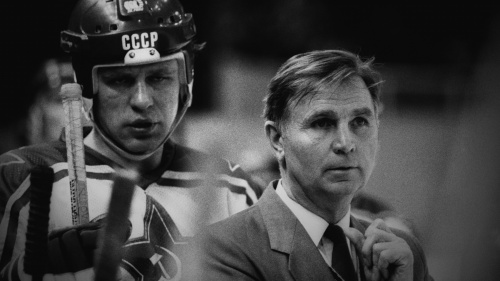 The hockey world lost not just one legendary coach yesterday in Pat Quinn, but also legendary Russian coach Viktor Tikhonov. Born June 4, 1930 in Moscow, Tikhonov began his career as a defenseman during his service in the Soviet Air Force after being drafted. Starting his playing career at age 18, Tikhonov saw great success as a player, winning four consecutive Soviet National Championships, three with his first club, VVS Moscow, and once with Dynamo Moscow, as well as earning a USSR Cup with VVS in 1952.
Tikhonov ended his playing career in 1963, accumulating 35 goals in 296 career games with the only two clubs he played for, VVS and Dynamo, for which he was awarded the title of Soviet Sports Master. One year later, Tikhonov would begin carving his coaching legacy in the world of hockey by taking a position as assistant coach of Dynamo Moscow, where he lasted four seasons before getting the position of head coach for Dynamo Riga in Latvia.
His coaching tenure in Latvia would eventually earn him a Latvian merit for sports coaching in 1973, but in 1977, Tikhonov would return home to Moscow to coach the infamous "Red Army" (now known as CSKA Moscow), as well as the national Soviet hockey team, a position he retained even after the fall of communism in the now-Russian Federation, becoming coach for the Commonwealth of Independent States (CIS) and Russian national hockey teams.
Tikhonov's career spanned almost two decades, both internationally and domestically in Russia; he would remain the head coach of CSKA Moscow until 1996, and the Russian national head coach until 1994, both of which saw him earn a preposterous number of accolades; among them:
Twelve Soviet Championship titles… in a row (1978-1989); nine World Championship gold medals (1978, 1979, 1981, 1982, 1983, 1986, 1989, 1990, 1993), one silver World Championship Medal (1987), three World Championship bronze medals (1977, 1981, 1991); Olympic gold medals in 1984, 1988, 1992, and an Olympic silver medal in 1980 (in what is known in North America as the Miracle on Ice). Tikhonov also coached the USSR to victories in the 1979 Challenge Cup, and the 1981 Canada Cup. In his career, Tikhonov failed to make the World Championship podium twice out of seventeen appearances (1992 and 1994, which lead to his resignation). He was honored with several state distinctions, including the Order of the Red Banner of Labour in 1978, the Order of Friendship of Peoples in 1981, the Order of Lenin in 1983, the Order of the October Revolution in 1988 third-class Order For Merit to the Fatherland in 1996, a Medal "For Distinguished Labour" in 1999, the Order of Honour in 2000, the Order of Friendship in 2010, as well as being an IIHF Hall of Fame inductee in 1998 as well as being a Chevalier of the Olympic Order.
If there was one thing Viktor Tikhonov knew what to do, it was getting results. He gained infamy in the hockey world as the hardest coach to play for. His teams practiced ten to eleven months of the year, and given that CSKA Moscow was part of the Soviet Army, Tikhonov even received the rank of General. His reputation for being a meticulous coach was well-deserved, as players were confined to barracks during their tenure playing under him; he also was no stranger to controversy, cutting players the likes of Vladimir Konstantinov, Pavel Bure, Alexander Mogilny, and Sergei Fedorov in order to prevent them from defecting to the U.S.
The impact of Viktor Tikhonov in Russian hockey is immeasurable; regardless of how many World Championships and Olympic gold medals he brought to Russia and the USSR, Tikhonov was always an advocate for the sport, lobbying the government for more financing to be directed to the national team after his retirement in 1996. Tikhonov is survived by his wife Tatyana Tikhonova and his grandson, also named Viktor Tikhonov. A state funeral is scheduled to take place in Moscow on Thursday, November 27th, at the CSKA Ice Palace, with an expected attendance from President Vladimir Putin, who is going to posthumously award Tikhonov with the first-class Medal "For Military Valour."
Love Reading About Hockey?

Subscribe to keep up-to-date with the latest and most interesting hockey news!
| | |
| --- | --- |
| | We hate spam just as much as you |