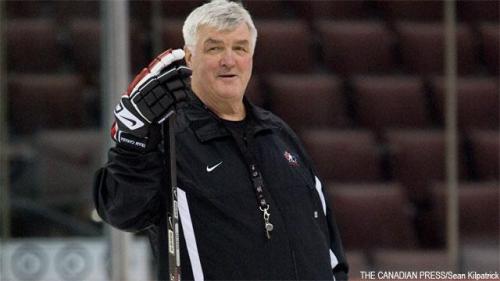 The passing of former NHL head coach and executive Pat Quinn saddens the hockey world, and especially the Maple Leafs community. Quinn, former Leafs defenseman and coach of seven seasons, was 71-years-old.
"Whether he was playing for a team, coaching a team or building one, Pat Quinn was thoughtful, passionate and committed to success," said NHL Commissioner Gary Bettman. "Pat's contributions to hockey, at every level, reflected the skills he possessed and the great respect with which he treated the sport."
Quinn coached the Los Angeles Kings, Philadelphia Flyers, Vancouver Canucks, Toronto Maple Leafs, and Edmonton Oilers from 1977 to 2010. Although Quinn never won the Stanley Cup, he has two Jack Adams Awards, and an Olympic gold medal from the 2002 Olympics in Salt Lake City. He led the Canadian junior team to gold in 2009, and made two cup final appearances with the 1979-80 Flyers, and 1993-94 Canucks. As coach of the Flyers, Quinn set a record 35 consecutive wins, which will forever stand given the NHL's elimination of tie games.
Most impressively, however, after 15 NHL seasons behind the pine, Quinn only missed the playoffs three times.
Prior to his coaching career, Quinn played in 606 NHL games, lacing up for the Leafs, Vancouver Canucks, and Atlanta Flames. He had 131 points, and registered 950 penalty minutes throughout his career. His most famous moment, however, came on April 2, 1969, when he laid out former NHL superstar Bobby Orr in a humiliating 10-0 playoff defeat.
But even at the time of his passing, the long-time hockey legend was still active in the hockey community. Quinn was chairman of The Hockey Hall of Fame, and part owner of the Vancouver Giants of the Western Hockey League (WHL).
"Words cannot express the pain we all feel today for the Quinn family," Giants majority owner Ron Toigo said. "Pat was an inspiration to all of us. He always said that respect was something that should be earned, not given, and the respect that he garnered throughout the hockey world speaks for itself. He will be sorely missed."
As HHOF chairman, Quinn was involved in deciding who gets to be inducted into the Hall, and one day he will be inducted amongst the greats himself.
"We are deeply saddened by the passing of Pat Quinn," said Jim Gregory, vice-chairman of the Hockey Hall of Fame. "Pat is one of hockey's most respected individuals whose lifetime involvement as a player, coach and executive has made an indelible mark on the game."
The hockey world has suffered a great loss today, but his legacy will always be remembered.
RIP, Pat. You will be missed, but you will never be forgotten.