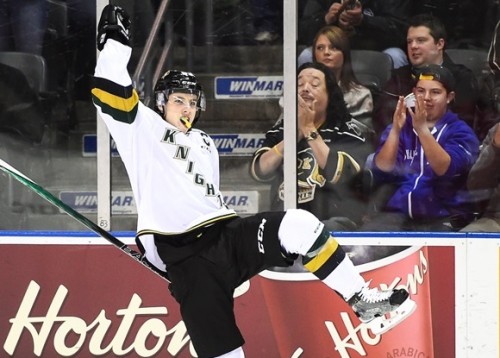 The Toronto Maple Leafs sit second last in the NHL, though all things considered they're right where they should be as a rebuilding franchise.
They have 10 wins, are 5-4-1 in their last 10 games and for the most part have played structured hockey this season. But while development is steady at the NHL level, Toronto's improvement in the minor leagues is nothing short of incredible. William Nylander leads the AHL in points, Mitch Marner is third in OHL scoring and Jeremy Bracco is transitioning well into a top line role with the Kitchener Rangers.
With nine skill-oriented picks in the 2015 draft, the Leafs went from having one of the worst prospect pools to one of the best, and the early returns are on full display.
AHL
William Nylander: C, Toronto Marlies [AHL], No. 62
Drafted: First round, eighth overall, 2014
Season to date: 25 GP | 14 G | 19 A | 33 P | +7
William Nylander is one of Toronto's top assets and he's certainly bringing his best every night. Consistency is something Mike Babcock was hinting at in training camp and given his current production, the young centre is poised to make his NHL debut very soon.
Whether Nylander will suit up for Team Sweden at the world juniors will be determined later this week, though if lent, he would be joining fellow Leafs prospects Mitch Marner, Kasperi Kapanen, Travis Dermott and Dmytro Timashov on the world stage. He lit up the tournament last year and would love for the opportunity to join his younger brother, Alex, who was also named to Sweden's 2016 selection camp roster.
Connor Brown: RW, Toronto Marlies [AHL], No. 29
Drafted: Sixth round, 156th overall
Season to date: 8 GP | 0 G | 4 A | 4 P | E
Connor Brown led all rookies in AHL scoring last season recording 61 points in 76 games. Unfortunately his production has slowed this year, but that's not due to lack of effort or opportunity.
DT: For those who doubt Connor Brown, you should go to a Marlie game! The kid keeps improving & was the best Player on the ice this weekend!

— NA Central Scouting (@MarkSeidel) October 13, 2015
Before fracturing his ankle, Brown was hammering out 2.75 shots per night, indicating the offense should come sooner rather than later. The right-winger suffered his injury Oct. 30 and is out indefinitely. Brown was one of Toronto's final cuts entering the season and is expected to make the big club next year.
Kasperi Kapanen: RW, Toronto Marlies [AHL], No. 42
Drafted: First round, 22nd overall, 2014
Season to date: 17 GP | 5 G | 5 A | 10 P | + 6
He's the big return on the Phil Kessel trade – and while he hasn't been lights out this season – Kapanen has played well considering this is his first full AHL campaign. The 19-year-old winger has a wicked release and is returning to the World Junior Championship for the second consecutive year. He tallied one goal in five games in the 2014 tournament and has top-six forward potential. Expect his numbers to improve as the season continues.
OHL
Mitch Marner: C/RW London Knights [OHL], No. 93
Drafted: First round, 4th overall, 2015
Season to date: 25 GP | 22 G | 36 A | 58 P | + 25
He's Toronto's most talented prospect and could become the top line centre the city's been dying for since the days with Mats Sundin. Right now Marner is averaging 2.3 points-per-night and is on pace for a ridiculous 158 point season. On Dec. 4 and 5, Marner notched two consecutive hat tricks for the third time in his OHL career, though when he's potting pucks like this it really shouldn't come as a surprise.
Expect Marner to continue to work his magic on Canada's top line alongside Dylan Strome and Lawson Crouse at the 2016 world juniors.
Travis Dermott: D, Erie Otters [OHL], No. 44
Drafted: Second round, 34th overall, 2015
Season to date: | 29 GP | 2 G | 25 A | 27 P | + 21
He's a smart, puck moving blue liner with incredible upside set on blowing his career highs out of the water. Anchoring a first place Erie squad, Dermott is second in OHL scoring amongst defencemen, recently totaling 15 points in 12 November contests. Before leaving for Team Canada's selection camp, Dermott registered three points in as many games and is poised to become a top Leafs defender.
Jeremy Bracco: RW, Kitchener Rangers [OHL], No. 97
Drafted: Second round, 61st overall, 2015
Season to date: | 18 GP | 7 G | 16 A | 23 P | + 13
After registering three points in five games to start the season with Boston College, Bracco's decision to join the Kitchener Rangers has really put his name on the map. Bracco recorded four points [2 G, 2 A] on Dec. 11, leaving many wondering why he wasn't named to Team USA's preliminary world junior roster. Bracco is replacing injured left-winger Adam Mascherin and has been lighting it up since filling the top line role. He has 12 points in his last 10 games and is set for a stellar season.
In 2014, Bracco had the privilege to play with Jack Eichel at the USA top prospects game and fit right in.
J.J. Piccinich: RW, London Knights [OHL], No. 84
Drafted: Fourth round, 103rd overall, 2014
Season to date: 28 GP | 19 G | 18 A | 37 P | + 20
It's hard to believe this is the same player who registered four points in 25 games with Boston University last season. Now in his sophomore year, Piccinich is making a name for himself ranking 16th in OHL scoring.
QMJHL
Martins Dzierkals: RW, Rouyn-Noranda Huskies [QMJHL], No. 10
Drafted: Third round, 68th overall, 2015
Season to date: 26 GP | 14 G | 19 A | 33 P | + 7
He is the first Latvian draft pick in Maple Leafs history and currently ranks third in scoring amongst QMJHL rookies.
Dmytro Timashov: LW, Quebec Remparts [QMJHL], No. 88
Drafted: Fifth round, 125th overall, 2015
Season to date: 29 GP | 18 G | 35 A | 53 P | +9
Timashov led the Remparts in scoring with 90 points in 66 games last season and will represent Sweden at the WJC. He is currently tied for fifth in QMJHL scoring.
WHL
Andrew Nielsen: D, Lethbridge Hurricanes [WHL], No. 6
Drafted: Third round, 65th overall, 2015
Season to date: 31 GP | 7 G | 24 A | 31 P | +10
Nielsen had a mere 24 points in 59 games last season, indicating incredible progress this year. Amazingly, he ranks third in scoring amongst WHL defencemen and has one more point than Team Canada's sophomore defenseman Joe Hickets. As a side note, he was also the water boy for the Red Deer Rebels from 2003-05 when Dion Phaneuf was one of their top defenders.
So there you have it, though these are only ten prospects of a total 57 invited to Leafs training camp in September. In 2014, former GM Dave Nonis only invited 28 hopefuls to camp, a stat indicating the incredible change to franchise philosophy.
This is the deepest Toronto prospects pool I've ever seen (for instance Stuart Percy, Scott Harrington and Andreas Johnson were not even mentioned above) and for the first time in recent memory, I can honestly say Leafs management is finally doing it right.
So buckle up, folks, and get ready. The Leafs are breeding talent on a scale quite unfamiliar to Toronto sports fans and I can't wait for the end result. In my mind the more assets you have the better – team development is a numbers game of sorts – and Maple Leafs management finally understands this concept.
It won't happen today and it won't happen tomorrow, but there is no denying the obvious… This team is going to be good.