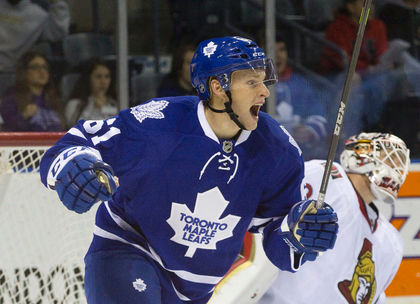 The Leafs won't be the most exciting team to watch this season but adding Connor Brown to the mix could change that, however slightly.
In three OHL campaigns Brown's tallied an impressive 250 points in 199 contests, not to mention an AHL rookie leading 61 tallies this past season. He can produce on the professional stage and though training camp doesn't commence until mid September, I believe Brown deserves a roster spot opening night.
Aside from Matt Frattin who's had an abysmal past two seasons amongst the Leafs, Blue Jackets and Kings, Brown is the most experienced right-winger outside the Leafs 24-man roster. What's more is that of those 24 players Toronto only has three forwards penciled in to the right wing position.
Marc Arcobello and P.A Parenteau were signed as depth wingers surrounding the inevitable Phil Kessel trade, while Richard Panik (one of the few highlights from last season) should remain with the big club.
Now the Leafs have also signed right-winger Devin Setoguchi to a professional tryout but there is no guarantee the former 30-goal-scorer will revive his career in Toronto. After signing a $750,000 deal with Calgary last season, the 28-year-old laced up for 12 games and failed to register a single point.
This leaves one position available on the right side and given Toronto's new "patience first" mentality, Brown should have the upper hand amongst younger competition.
Other right-wing prospects include 2015 draftees Jeremy Bracco and Nikita Korostelev, as well as top 2014 pick Kasperi Kapanen. The Leafs have high hopes for the 19-year-old winger sent over as part of the Kessel trade, but they have also made it clear that they do not intend to rush his – or anyone else's – development.
"Patience is the key," said Leafs assistant general manager Kyle Dubas. "We're not going to bring them up unless they're absolutely ready to stay up all the time. We don't want them to go back and fourth between the Leafs and Marlies."
In fact, Leafs management has said none of the players invited to their rookie camp are expected to make the team this season. The Leafs have more prospects now than they've ever had in recent years but looking at the 28-man rookie camp roster, one detail could be easily missed: Brown's name is nowhere to be found.
This is the first sign Brown will get a real chance with the Leafs in September but with Setoguchi entering the fold and other NHLers penciled in, even being the top positional prospect is no guarantee; his on-ice play amongst 57 other NHL hopefuls will determine his eligibility.
"Very simply, when he is on the ice, we play with the puck," Dubas said. "Gaining possession, gaining the blue line, he has shown it in different ways."
The Leafs are scheduled to begin the season Oct. 7 at home against the Montreal Canadiens and Brown could be one of the 12 forwards lacing up for the big night.
"The opportunity could be there for Connor to take," said Dubas. "At some point he'll make his NHL debut… [and] if he continues to do the work, he will get to where he needs to be."