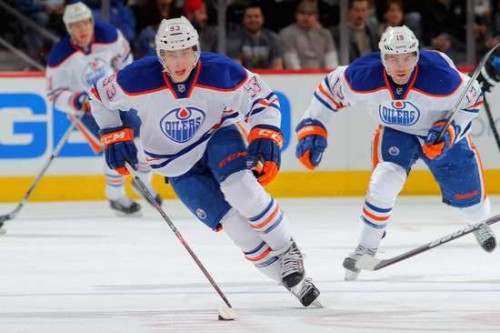 I've said it before and I'll say it again – the Toronto Maple Leafs need to make a deal for Ryan Nugent-Hopkins.
In an article I wrote a little over a year ago, I proposed the following swap for RNH: a Reimer/Kadri package trade with prospects and a top Leafs defender (excluding Reilly) thrown into the mix.
Off hand it's easy to call this idea ludicrous, but if you stop and think about it everything makes sense for both clubs.
Let's begin with the Oilers.
One quarter into the 2015-16 season, Edmonton is repping a 3.06 GAA. I don't care that Connor McDavid is injured, the bottom line is that the Oilers are giving up the third most goals in the NHL. When a team has a top six forward group with five players drafted in the top three since 2010 (Taylor Hall, RNH, Nail Yakupov, Leon Drasaitl and Connor McDavid) there are bound to be problems.
And let us not forget Jordan Eberle – who despite having three points in eleven games – is still a top line winger. The Oilers aren't balanced on the back end and Darnell Nurse and Oscar Klefbom are not enough to staunch the bleeding.
But as Oilers management will tell you, does it matter that Edmonton sacrifices over three goals each night? After all they did just draft another superstar so it's only logical the goals should come, correct?
Wrong. Of course it matters, and it matters now more than ever.
In today's NHL scoring four goals a night is nearly impossible, the league leading Dallas Stars netting 3.5 tallies on average. If the combination of Jamie Benn, Tyler Seguin, Jason Spezza and Patrick Sharp (Benn and Seguin ranking second and third in points across the league, respectively) can't top four goals, no one can. The recent speculation involving increased net size should be indication enough – the NHL has molded a defense first mentality and the Oilers need to address this.
Last season the Oilers averaged an abysmal 2.35 goals-per-game and have only managed to score more than 2.5 goals twice in the past five years. Today Edmonton is registering 2.54 goals each game but given their history, do not expect this to improve. With stats like these, gunning for four markers on a routine basis is wishful thinking, to say the least.
This time last season the Oilers sat 27th in GAA (one spot ahead of their current position), surrendering 3.37 goals-per-game and ranked 28th in winning percentage. These stats look all to familiar and something needs to be done about it.
So queue the drum roll folks, this is where the Maple Leafs come into play.
Toronto isn't going anywhere this season, plain and simple. Let's make that clear from the beginning.
This means dealing our top defender in Phaneuf (he leads the team in points and minutes played against the NHL's top lines, don't waste your breath), the underrated 7-3-4 Reimer and the talented Kadri as a package is not out of the question. Granted Toronto would have to retain some of Phaneuf's salary, but an RNH return would be well worth it. As an added bonus, Phaneuf could fill Nugent-Hopkin's role as one of four alternate captains sharing the leadership duty. A weight would be lifted and he would be able to produce without the burden of "wearing the C."
Additionally, Kadri is in the midst of a $4.1 million bridge deal and despite low point totals he's off to one of his stronger campaigns. The highly touted centre is a restricted free agent at season's end and would do well in a lesser role surrounded by superstar talent. On the flip side, RNH could fill the top line role that Kadri will likely never aspire to.
Both teams have the cap space to make this deal happen ($7.8 million in Edmonton and an available $6.7 million in Toronto) and the needs are there for both clubs. Edmonton is so close to being that powerhouse everyone hopes for, they just need a goalie upgrade from Cam Talbot and Anders Nielson, some depth on the blue line and a young, decent forward to replace the blue chip player they'd be dealing away.
Kadri, Reimer and Phaneuf address each issue and given Edmonton's history, I can confidently say that these Leafs will improve the Oilers significantly more than another last place finish and an Austin Matthews first overall selection ever will.
No team needs six top line guys. There are three positions for a reason, and what happens when all six blue chip players max out their entry-level deals and demand major contracts consecutively? There's no way the Oilers could afford every first line forward and still have the funds to sign quality defensemen and a top goaltender.
As the saying goes you can't fix a problem until you admit that you have one, and Edmonton refuses to acknowledge the obvious.
The Oilers need to balance out the roster while it's affordable to do so and adding salt to the wound, they were just shut out by a Maple Leafs team with a goalie making his NHL debut. This is the first time that's happened in franchise history; it doesn't get much more glaring than that.
If Edmonton wants to win they need to face facts and balance out their roster.
If Edmonton wants to win, they need to strike a deal.