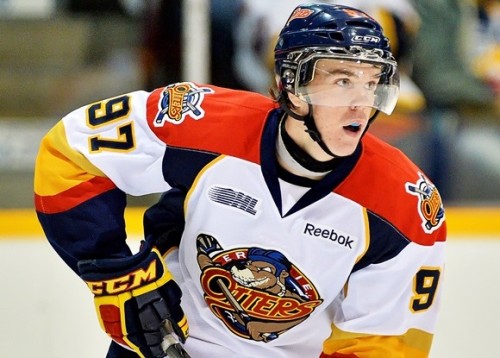 For the fourth time in the past six years the Edmonton Oilers have won the jackpot. With the first overall selection in this year's draft, it's almost certain future phenom Connor McDavid will lace up for the front heavy Oilers. In my mind, however, given their recent draft history and continued on ice failure Edmonton doesn't deserve such a fantastic player.
For years the Oilers have carried one of the worst defensive records in the game and general manager Craig MacTavish hasn't done anything to change this. Since 2010 the Oilers have drafted five top first round forwards – Taylor Hall, Jordan Eberle, Ryan Nugent-Hopkins, Nail Yakupov and Leon Drasaitl – but today the end result is the same: the Oilers are terrible.
Now another failed campaign in the books, the Oilers finished dead last in goals-against sacrificing 3.37 tallies each night. But considering their elite talent up front, the Oilers should be scoring close to four goals every game, right? With a backup goalie turned starter in Ben Scrivens and a blue line bolstered by old-timer Andrew Ferrence and rookie Oscar Klefbom, it makes you wonder… Was this MacTavish's plan all along?
Either way it doesn't matter. This goal is near impossible in today's NHL, the league leading Tampa Bay Lightning registering 3.16 goals-per-game. The plan failed – assuming Edmonton had one to begin with – and their back end remains non-existent. As a result the Oilers averaged an abysmal 2.35 goals-per-game and have only managed to score more than 2.5 goals twice in the past five years.
This brings up another issue – if your defense is so terrible, why wouldn't you call up the one proven defensive prospect in your system? Darnell Nurse played his strongest OHL season to date despite injury, notching 33 points in 36 games this season. Instead, the Oilers called up their top prospect for a brief two games, before sending him back down to the minor leagues.
Earlier this season, however, MacTavish decided it was right to call up Drasaitl, a centre and Edmonton's third overall 2014 selection. Of course, after registering nine points in 37 games Drasaitl was quickly sent back to the Western Hockey League. The Oilers are exploding with forward talent, but premature call-ups are not the solution.
As I see it there are two ways to win hockey games – either you have an elite goaltender (i.e. Montreal Canadienes) or you have depth at both ends of the ice to carry your team through. Unfortunately the Oilers have neither and a McDavid acquisition does not address these blatant concerns.
"The idea that Connor McDavid is going to come in here and be the savior is a little bit ridiculous," said Joanne Ireland, a hockey writer for the Edmonton Journal. "How many times have we seen a number one pick come in here and the team not do any better?" The Oilers used the no. 1 pick to select Hall in 2010, Nugent-Hopkins in 2011 and Yakupov in 2012.
The obvious move now is to trade away one of their top forwards in exchange for defensive assets, but MacTavish has indicated the team is not interested in altering the core group. Hall Eberle, RNH and now 24-year-old defenseman Justin Schultz are considered the Oilers main building blocks for the future. What MacTavish fails to realize, however, is that having one defenseman standing in front of the league's worst goaltending as part of your core is not enough to reinforce the NHL's next superstar.
"Just because you get Connor McDavid doesn't mean you're going to manage the assets any better than you have up to now, which frankly is not very well," said Edmonton Journal sports columnist John Mackinnon. "It could be an… illusion."
Hockey is a team game and with McDavid in the fold, it's vital the Oilers trade one of their blue chip forwards. By signing Yakupov – a player not even considered a part of the core – to a 2-year extension, however, MacTavish seems dead set on continuing this failed attempt to build an offensive powerhouse.
Granted, while Yakupov has been playing better since Derek Roy joined the team, he was expendable and could have brought in the pieces the Oilers actually need. During his draft year Yakupov was one of two players in the top 10 that weren't defenseman but despite team needs, MacTavish made the obvious choice and selected him immediately. Now three years later, this has proven to be an unwise decision on the grand scheme of things.
Today, defenseman Noah Hanifin is projected to go third overall, Edmonton's original draft position. Hanifin was needed in Edmonton, and for once it looked like they were going to make the long overdue defensive acquisition. Obviously this won't pan out come June, MacTavish saying there's a zero per cent chance of trading away the top pick.
Now of course McDavid is a dynamite prospect and MacTavish should select him given his opportunity, but does he deserve it?
Absolutely not.
He has had more opportunity to succeed in recent years than any other general manager in the league and his team continually comes up short. McDavid is a franchise player, but one person – no matter how talented – is not enough to alter years of inconceivable mismanagement.