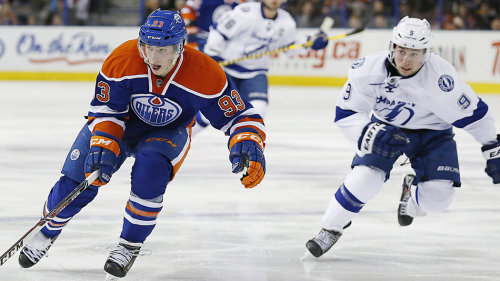 The Maple Leafs have the pieces to form a potential deal for Ryan Nugent-Hopkins, who could spark their age long turnaround.
Ryan Nugent-Hopkins is young, talented, and hugely expensive, but the Maple Leafs should do everything in their power to acquire the 21-year-old centre.
You can't fix a problem until you admit that you have one, and Tuesday's 9-2 blowout loss is proof that it's time for the Maple Leafs to make a splash. After being thumped 6-2 by the last place Buffalo Sabres, Tuesday's debacle was supposed to be a response game. Unfortunately this didn't happen, and anyone unwilling to shake the roster is well behind the eight ball.
Even Leafs superstar Phil Kessel understands who's responsible. "It's not Randy's fault," he said. "We're on the ice. We're the ones playing the game. We're out there making mistakes."
At the same time, it's safe to say the Leafs are better off than many. They have the strongest goaltending tandem in the league, a decent defensive core, and a pool brimming with young talent. Kessel will light the lamp on a consistent basis, and the competition amongst the forward lines breeds a healthy environment.
But despite everything this is not a playoff team, and the solution to Toronto's top centre position is long overdue.
The Edmonton Oilers have excess forwards, limited defense, and need a more reliable goalie between the pipes than Ben Scrivens. In contrast James Reimer deserves a full time starting position, and a number of Leafs' blue liners are expendable. For the right price, the Leafs could absorb Nugent-Hopkins' seven year, $42 million contract.
At season's end, Nazem Kadri becomes a restricted free agent, and given his slow start a Reimer/Kadri package deal isn't out of the question. Of course picks and prospects need also be included, and with the Oilers having over $5 million in cap space, a Leafs defenseman could also be thrown into the mix. The offensive Cody Franson, smooth-skating Jake Gardiner, or even captain Dion Phaneuf are all viable options.
The price would be hefty, but the RNH return could be just what the Leafs need to spark a turnaround.
"If it was magically correcting one thing, it would be transitioning the puck from the defensive position to the offensive position," said Maple Leafs head coach Randy Carlyle. "Get the pucks in the forwards hands. The one thing we need to do is play fast."
And if there's one thing Nugent-Hopkins is known for, it's generating offense and making those around him better.
In three NHL seasons, RNH has tallied 145 points in 199 contests, and developed into a dynamic, playmaking centre with huge upside. Combined with James van Riemsdyk's aggressive style down low, and Kessel's laser shot, RNH would ignite Toronto's offense. Considering the Leafs have yet to lose a game this season when scoring first, RNH could provide the winning touch the Leafs need.
Unfortunately, however, Leafs general manger Dave Nonis has opted toward the classic "let's not blow things out of proportion" leadership style.
"We're going to be as patient as we have to be," he said. "We're not going to make a deal just to make one, we're not going to do some things that would look pretty or sexy but would set our team backwards…. We just need to get back to where we were not too long ago."
But where were the Leafs "not to long ago?" They certainly weren't in the post-season, having only made the playoffs once in the past nine years. The fact that Nonis is basing his faith off last week's record (9-5-2) a month and-a-half into the regular season is ridiculous.
Out west, the Oilers sit 27th in goals-against-per-game with 3.37, and rank 28th in winning percentage when scoring first. There is a need in Edmonton for defensive depth, and the Leafs have the assets to address this issue.
So what's it going to take, Nonis? Another blowout loss, or season ending tailspin? Maybe another summer of reflection out on the golf course? Honestly, stop wasting time and address the issues at hand. There was little change this summer, and nothing has changed on the ice.
Everyone in Toronto knows this, and people are getting angry.
Fix it.