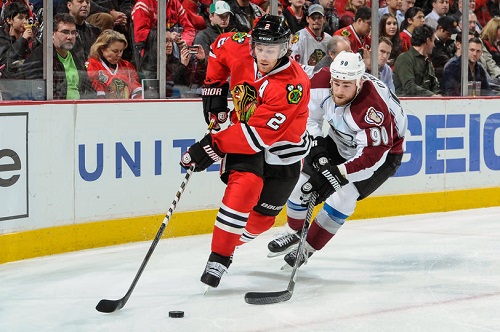 A great defense can establish a great hockey team. A common ideal among the hockey community is that stellar goaltending often leads to Stanley Cup hopes. But in front of the netminder, the role of the defenseman is equally vital. From clearing the front of the net, to making outlet passes that initiate the rush, the defenseman can change the game.
Chicago is lucky enough to have strong defenseman. But that isn't uncommon. One of the Blackhawks's best active defenseman, Duncan Keith, shows flashes of a former defensive legend in Doug Wilson.
Let's start with Keith. A Norris Trophy winner who also has an Olympic Gold Medal, Keith has an envious NHL resume. His name is on Lord Stanley's prize.
Twice.
His play so far this season has put him on the roster to again represent Canada at Sochi. The potential for a second gold medal, and again, his name is in the talks for the Norris trophy. He currently sits at 44 points in 50 games, which is second among all NHL defenseman and fourth among all his teammates. He's on pace for his best season yet.
He's leading the team in assists with 41, well ahead of Patrick Kane (33) and captain Jonathan Toews (31). His assist total also puts him at second in the league.
In all, Keith has 657 NHL games to his name with 62 goals, 291 assists, for a total 353 points.
But what may be more impressive than the numbers, is the value his team feels he brings on a nightly basis.
"What I've learned most from him is how good he is at jumping on guys and making them make a different play, making them decide sooner then they want to," said the young and learning Nick Leddy.
"He influences the play."
"I think he knows no matter what, he can skate himself out of trouble," said Toews.
"If he gets kind of stuck in his own corner in our zone, he can kind of spin off a guy and keep the puck and not just have to throw it away like some guys would. He can draw so much attention on himself and open up guys and find them breaking and skating with speed out of our zone."
It's all starting to sound familiar. Like something Blackhawk fans have heard about the battling-blueliners before.
Wilson was unquestionably a great two-way defenseman. He was more than reliable in his own zone, and wasn't shy about throwing a rocket of a slapshot at rival netminders in the offensive end of the ice.
His 14 seasons with Chicago made him a Windy City household name. Chicago fans have a habit of appreciating hard work. In their city, and in their sports. Wilson exemplified it nightly.
He helped run the power play with teammates like Al Secord, Steve Larmer and Dennis Savard. Not an overly physical defenseman, Wilson would impose his body-play in front of the net, clearing out would-be defelectors and rebound-hunters.
He set Blackhawk defenseman records with 225 goals and 554 assists. He was able to snag 39 goals and 85 points in the 1981-82 season alone, giving him another Blackhawk record.
Those numbers would land him the Norris Trophy.
In all, Wilson would total 1024 NHL games with 237 goals, 597 assists adding up to a stellar 827 points. His play was defined by sound positional defense, a great skating ability, and an ever-present offensive threat. It's that kind of talent that leads wins at the highest levels.
Sounds like someone we know.
"Win one thing and you just want to prove it's not a fluke," said Keith.