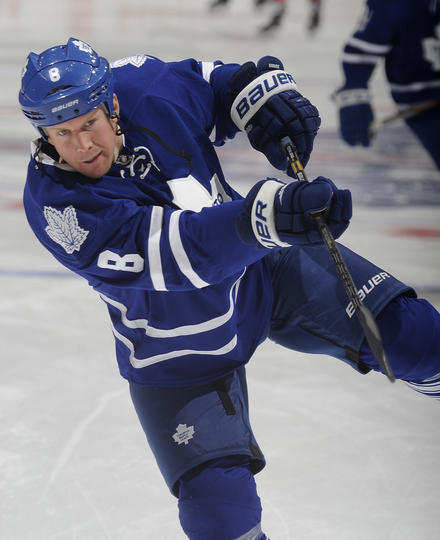 It looks like Mike Komisarek's days as a Maple Leaf are up. According to The Fan 590 radio host and www.truehockey.com founder, Andy Strickland, Komisarek has submitted a list of 12 teams he would be willing to accept a trade to.
The former 2001 seventh-overall draft choice of the Montreal Canadiens has never been able to find his groove in Toronto, and clearly has been getting frustrated playing in only four games this season. To say things have been rough for Komisarek would be an understatement, as the defenceman has struggled to get his act together for the Maple Leafs, and every time he appeared to be getting his game back or getting an opportunity, he would find himself on the injured reserve.
The latest example was Komisarek missing a game against the Buffalo Sabres when he broke his stick over the boards in a practice near the end of January. His display of frustration turned out to get the better of him after a piece of fibreglass from the snapped stick ended up in his eye. Doctors cleared him for the game after he received a stitch in the eye, but Komisarek wound up in the press box. He's been there ever since.
There aren't many teams that would want to add a 31-year-old fringe defenceman for a salary of $3.5 million this season, especially since he carries $4.5 million cap hit. That's why it's speculated that Komisarek is open to going to any team willing to give him a chance to play, despite his 12-team list.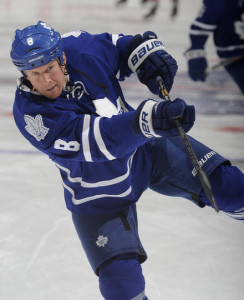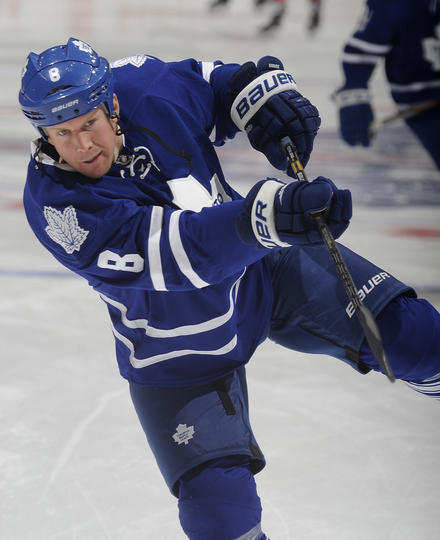 One possible destination is the New York Islanders, who wouldn't mind the $4.5 million cap the next two seasons while paying a million less in real salary. They've already shown this year that they're willing to add on cap money in exchange for real money to get over the salary cap floor, as shown by the Tim Thomas trade. It helps that Komisarek himself is from Long Island.
If you're wondering why teams might be a little hesitant to add the veteran defenceman at relatively no cost in a trade, consider his stats versus someone with a comparable salary cap hit and same age (31), Kevin Bieksa. Here are some stats from a full season (2011-2012), because Komisarek's four games don't aptly represent his futility in Toronto.
Komisarek (2011-12)
Age: 30
Salary: $5.5 million
Cap hit:$4.5 million
Games played: 45
Goals: 1
Assists: 4
Points: 5
Penalty minutes: 41
Plus/minus: minus-13
Games missed to injury: 22
Healthy scratch: 15 games
Playoff games in career: 29 (zero since Montreal)
Kevin Bieksa (2011-12)
Age: 30
Salary: $7 million
Cap hit: $4.6 million
Games played: 78
Goals: 8
Assists: 36
Points: 44
Penalty minutes: 94
Plus/minus: plus-12
Games missed to injury: 4
Healthy scratch: zero games
Playoff games in career: 56
All in all, the Leafs will either end up dumping Komi for a conditional seventh-round pick or an ECHLer and be glad to wipe their hands of that mess; or the more likely scenario, Komisarek is bought out using one of the Leafs two compliance buy-outs that were established after the new collective bargaining agreement. This way, Komisarek is still paid, but the Leafs don't have it count against the salary cap, the NHLPA is happy, and Komisarek is free to sign wherever his heart desires.