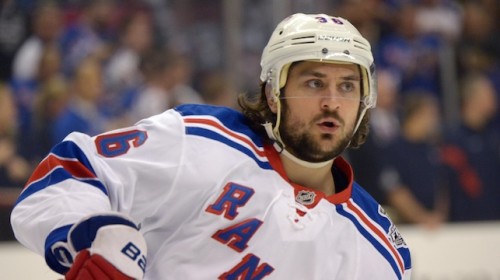 There's no doubt that the New York Rangers "energizer bunny" and x-factor on the ice is right winger Mats Zuccarello.
The winger makes his presence known by playing with grit every night, and usually isn't shy about getting on a game's stat sheet for the Rangers either. What was even more clear was how New York missed Zuccarello's play on the ice during the 2015 Stanley Cup Playoffs — after the winger suffered an injury from taking a slap shot to the side of his head.
It's a fair assessment to ask if, "Would the Rangers have advanced to their second-straight Stanley Cup Finals appearance if "Zucc" was in the lineup vs. the Tampa Bay Lightning during the Eastern Conference Finals?"
That's how much the winger means to the "Broadway Blue Shirts."
On a positive note looking forward, and months later, it's been reported by the Rangers that Zuccarello feels "Good as new."
The team reported the news via Twitter earlier today.
#NYR winger @zuccarello36 feels "as good as new" & is ready to go this season; full story: http://t.co/cLRSYyXuv5 pic.twitter.com/hvOPbwlPlg

— New York Rangers (@NYRangers) September 8, 2015
While doctors fully approved Zuccarello to start skating again, it remains to be seen if the 28-year-old will be ready for the Rangers preseason opener against the New Jersey Devils on September 21.
According to the report, the Rangers' forward also had this to say though, "Hopefully I'm ready to go right away. Like I said, I feel bad today, but it's going to take me time to just get back on the ice and the timing and stuff, but it's the same for everyone."
While most of the Rangers' usual starters from last season will more than likely not play in the game at Madison Square Garden on the 21 — it probably wouldn't be the worst idea to have Zuccarello be a part of the exhibition game, and get the Norwegian native back in "game rhythm."
Zuccarello is scheduled for one more follow-up with doctors, and has completed his speech therapy.