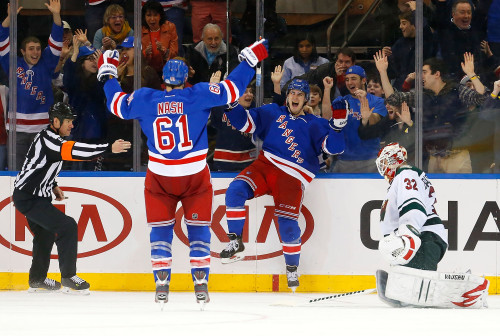 "HEY, HEY; HEY HEY HEY! Let's go Rangers!" This is exactly what visiting NHL teams and their fans do not want to hear while playing the New York Rangers at Madison Square Garden — the Rangers' goal song.
Not only will the goal song be heard during live Rangers games, but it can now also be heard after the "Blue Shirts" score during an EA Sports' NHL 16 video game session.
The report was confirmed earlier today, as the Rangers' Twitter account sent out a tweet letting "NYR" fans know that the song would be a new feature in the game.
HEY HEY HEY HEY HEY #NYR fans! The goal song is featured in #NHL16​ this year!https://t.co/8Q5No5lLlZ

— New York Rangers (@NYRangers) August 31, 2015
While the other 29 NHL fan-bases may not be too thrilled about this — the Rangers and the "Garden Faithful" surely are, as they'll be able to celebrate and hear the song that much more when playing as their favorite team in NHL 16.
NHL 16 is set to be released on September 15th, which is right around when NHL teams report for training camp.