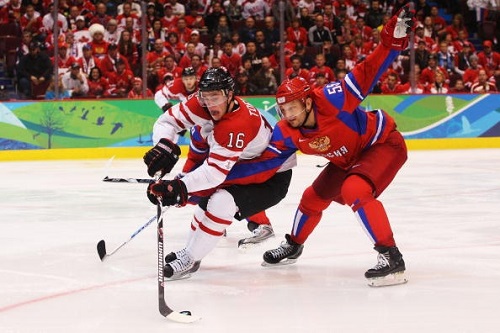 In the 1990's, the Chicago Blackhawks and the Pittsburgh Penguins ignited a semi-rivalry that still leaves a bitter taste today. While the Penguins don't strike as heated of a chord as say, the St. Louis Blues or the Detroit Red Wings, a gritty contest is still expected when these two teams meet.
However, leaders understand when to butt-heads, and when to cooperate. A national stage is no place for bickering. Which is why when Pittsburgh's Sidney Crosby was amongst talks of captaining the Canadian National team for the Olympics, he chose to bandage the wounds between Chicago and Pittsburgh.
Crosby asked for the support of Blackhawks's captain Jonathan Toews before officially accepting the 'C' for team Canada. Crosby captained the team during the last Olympic games, and helped to bring home the top prize off the 'Golden Goal,' but not selecting Toews as captain was not a simple decision.
"Crosby wanted to make sure it was okay with him because of the fact that he's won a couple Cups," said coach Mike Babcock. He went on to say how Toews is highly regarded among all levels of professional hockey, and that Toews is a big reason why the Blackhawks win. He's right.
Crosby wanted to make sure Toews was okay with the role assignments, as Toews would be selected as an alternate. Toews was happy to be given "any role" he would be given and was just excited and focused on being a part of the team and the Olympic games.
"It's a quick two weeks, everyone really focuses on their own game but also tries to find that team chemistry that is gong to make a difference for us," said Toews.
"For Sidney to ask the other guys for their approval, I don't think he needed to do that. That just shows the kind of guy he is and obviously a great captain in Pittsburgh."
More than a nice gesture, this is the kind of example that separates hockey from so many other sports. While both players are considered two of the best in the current game, possibly two of the best to ever play, both strong considerations for a highly prestigious role on an international level, and bitter opponents on any other seasonal night, the two still look at each other with respect and admiration.
It's another example of the special respect that shimmers in other parts of the game. Fierce, hard-fought wars on the ice through the intensity of a Game 7 playoff tilt end in a handshake line where players pat each other on the back and nod in appreciation of each other's intensity.
Two heavyweight tough guys decide to settle game inconsistencies with their fists, not because they hate each other but because they love their team. And afterward in the locker room, have nothing but positives to say about their opponent.
That kind of respected-rivalry is a heavy theme in the game of hockey and it was impressive to see it show through even at the start of the Olympics. It's something other sports don't have and other non-hockey fans have trouble understanding.