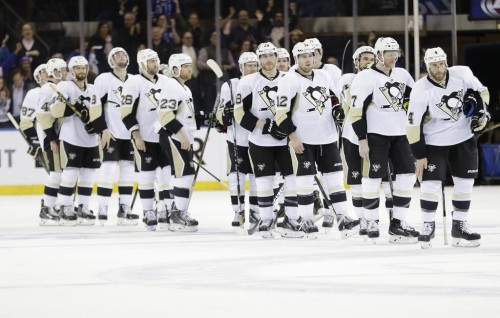 It's hard to recap a season in a single post. It's too late to recap a five-game series in a single post. It's usually hard to recap anything other than a game in a single post.
So why not lightheartedly take a few jabs at myself by revisiting my preseason predictions for the 2014-2015 Pittsburgh Penguins?
Sidney Crosby, Evgeni Malkin, and Kris Letang will lead.

Not only are these three the most talented on the team, but they are the Penguins to look to now. The days of just being on the stats sheets are done. It's time for the superstars to embrace their letters, their roles, and lead the Penguins each and every night. No more defeated faces. No more praying that a random trade deadline acquisition will bail you out. This is the big time. There is no "country club" curtain to hide behind anymore. If these three take the reigns, the Penguins will look a lot different by just taking their first regular season strides on the ice.
This was the most accurate prediction of any.
Sidney Crosby finished third overall in scoring in the National Hockey League, falling to that position only after a late surge by John Tavares of the New York Islanders and Jamie Benn of the Dallas Stars. For those only keeping track of post-season results, Crosby tallied two goals and two assists in five post-season games this year. Both goals came in Game 2 of the series, ending his previous playoff "drought" and putting some criticism to rest.
Perhaps no one flourished more under Mike Johnston's system than Kris Letang. Despite missing the remainder of the season after an awkward collision with Shane Doan of the Arizona Coyotes, Letang still finished 7th overall in scoring for defenseman with 54 points. He finished only 12 points behind probable Norris Trophy winner Erik Karlsson of the Ottawa Senators.
Not showing up to training camp, a question mark was placed above Evgeni Malkin's head. Malkin quickly silenced critics and showed nothing but pure dominance on every shift. He finished the season with 70 points (28G, 42A), in 69 games – a run cut short by an injury that forced him to miss a few games in late January.
It is no question that the superstars of the Penguins played to the high expectations that Pittsburgh often places on them. A few more goals here and a game-winner there would have been nice, but don't let that overshadow the superstars playing like superstars.
Christian Ehrhoff will be the dark horse of 2014-2015.
Unfortunately this prediction never really had the chance to flourish. At no fault to Christian Ehrhoff, the steal of a deal for the top-four defenseman ended up being too good to be true. Ehrhoff finished with 14 points (3G, 11A) in 49 games, perhaps the most memorable being this beautiful game-winning goal against the Ottawa Senators:
The Penguins wanted to get the most from Ehrhoff's amazing slapshot this season, and it's extremely unfortunate that they didn't get to see it more due to injuries. This signing was hardly a bust though. It's not everyday you can sign a defenseman of Ehrhoff's caliber to a $4,000,000, one-year deal.
Marc-Andre Fleury will have an average season, and you'll be okay with it.

You were expecting a Vezina prophecy or a comeback prediction weren't you? Nope.

Fleury will play the same regular season game he always has. If he plays a little better since it's a contract year, then so be it. Fleury doesn't play do or die in the regular season as the team in front of him is usually doing a pretty good job. Year over year, expectations are set high for Fleury, and yet they are never addressed until Spring. For the umpteenth year in a row, don't expect anything different. We can speculate that Fleury will be under a microscope during the regular season. But unless there's a meltdown at the start, there will be no magnifying any issues until spring.
Marc-Andre Fleury finished the 2014-2015 regular season with his best save-percentage (.920) since 2007-2008 and his best goals against average (2.32) since 2011 – not to mention a career best and 2014-2015 league leading 10 shutouts. While those may look like pedestrian numbers, Fleury gave the Penguins a chance to win every single night no matter the team in front of him. For a team that lost multiple players due to blood clots, cancer and even the mumps, Fleury remained consistent all season with his only memorable bump in the road coming after starting in both games of a back-to-back in Florida.
Take away the 10 shutouts and Fleury is not considered to be in elite company. But with a healthy team in front of him, there is no need for him to be. Even missing three of their top-four defenseman, Fleury posted a .927 save-percentage and 2.15 goals against average in the post-season.
Looking at the numbers, it may have been an average season for Marc-Andre Fleury. But this season was a lot more than just numbers for the Penguins netminder.
Brandon Sutter will rise (again).

The Penguins 2014 (unofficial) playoff MVP will carry his accomplishments into the regular season. He has already proved his brilliance in the preseaso. Prepare to be a witness well into the home stretch. Brandon Sutter has two years to prove that he's worth more money than he is right now. Keep in mind, he was able to show Rutherford a thirteen game highlight reel of why he was worth it this summer. He has an entire resume of two years to fill. Don't be surprised if it's overflowing by 2016. The "what if the Penguins signed Toews instead of Staal?" debates may finally be laid to rest.
While Brandon Sutter did finish the regular season with 33 points (21G, 12A), he did leave some to be desired. Credit is due as it looked like a line of Beau Bennett, Brandon Sutter and Steve Downie would be hell to play against in the preseason. Even though injuries derailed that vision, Sutter was still able to put up the points. However, for a centerman, it would have been nice to see more assists, not to mention some goals not coming off of a break on the right side of the ice.
It was evident that Sutter's contract extension was based on his performance in the 2014 postseason. However his $3,300,000 contract still leaves some to be desired and a bit of uncertainty. His performance this season may be some incentive to trade him to bring in a better option. But if he remains with the Penguins next season, he will have to play much better to earn a similar contract, let alone a raise.
Mike Johnston & Co. will have a miraculous effect on this team.
I still stand by this prediction when the Penguins still had a healthy roster. Mike Johnston's system kept a healthy Penguins team rolling through the first half of the season. However as soon as Olli Maatta was out, his system had to adjust to someone with a lower skill set taking his place. As the injuries mounted, so did the adjustments. By the time the playoffs rolled around, a great system tailored for puck moving defenseman and speedy forwards was turned upside down and then some just so the players on the ice had a chance to win the game at hand.
For his first season as a head coach in the National Hockey League, Mike Johnston did well. If he has the chance to coach a healthy roster for the majority of the 2015-2016 season, the results should be similar to what we saw at the beginning of the 2014-2015 season.
Enjoy it.
This wasn't something I never expected to gain any traction, especially with the high expectations that are constantly placed on the Pittsburgh Penguins. However, it was such a relief to see everyone purely enjoy the fact that the Penguins made the playoffs. The positivity after their Game 1 loss was unbelievable, and ultimately carried over to their Game 2 victory.
While it doesn't mean much, one has to build off of that for the future of this organization. Younger players will be given important roles next season (which is something up for discussion in a future post) and the results will not instantly appear. But hopefully with the staff in place learning from their first season, as well as players coming into their own, the Penguins have a bright future.
Love Reading About Hockey?

Subscribe to keep up-to-date with the latest and most interesting hockey news!
| | |
| --- | --- |
| | We hate spam just as much as you |