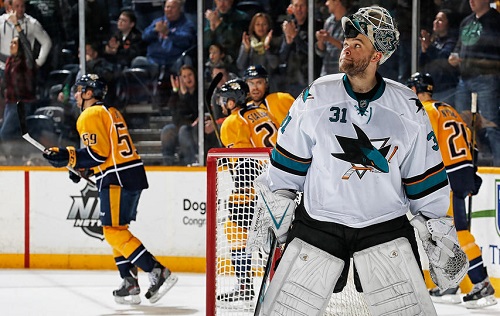 I'm used to watching the Sharks explode in the first period like they have been doing all season. Unfortunately, there was no explosion on Saturday…during any period.
The Sharks faced the Nashville Predators on Saturday, and were hoping to build off of some momentum after a solid win against the Minnesota Wild a couple nights before. Anything but that happened.
The Sharks came out flat in the first period. They surrendered a goal and were outshot 10-8. A positive that came out of the period was a fun to watch scrap between Andrew Desjardins and Rich Clune. The second period was a little better, but another goal was given up on the power play, and the Sharks fell behind 2-0.
Marc-Edouard Vlasic did not play the end of the first period due to injury, but was back out for the start of the second.
The third brought a little more excitement. Dan Boyle tipped in a shot to make it 2-1 7:28 into the third period. Later, Viktor Stalberg took a wrist shot that beat Antti Niemi to give Nashville a two goal lead again. Patrick Marleau then redirected in a Boyle pass with 55 seconds to go in the game. With 55 seconds left and only a one goal deficit, the Sharks started to pile on chances. At one point, a shot that was sure to go in was stopped at the goal line by Roman Josi, saving the game for the Preds.
Former Sharks prospect Carter Hutton played a phenomenal game in goal for the Predators, stopping 36 shots. Niemi made 20 saves.
The Sharks have had no problem getting shots on net. A problem lately has been the penalty kill. After going 0-1 against the Predators, in the last 11 road games, the Sharks are just a weak 17-26 on the penalty kill (65.3 percent).
Another burning question, When does Antti Niemi deserve a rest? He started for the 12th time in the last 13 games and has looked a little tired. He allowed a weak shot past him, which was Nashville's third and game winning goal.
The Sharks fly over to St. Louis for a Tuesday night showdown, and complete the road trip in Los Angeles on Thursday.