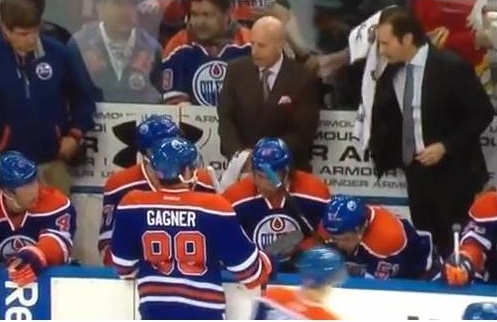 Well, at least there's hopefully nowhere to go but up.
The Edmonton Oilers have been doing a little better lately, but this week… this week was rough. The loss against the Buffalo Sabres was one thing, but the massacre at the hands of our provincial rivals, the Calgary Flames, was ridiculous.
I've seen/heard a wide variety of reactions from Oilers fans after this game, from enraged to resigned. Many television sets nearly lost their lives. Many curse words were uttered. The goals just kept coming and I kept peering out between my fingers, watching it like a horror movie, thinking – it must stop sometime.
I can't even hear the number 8 today. But as painful as it is, let's relive it a little bit.
The first period started out surprisingly not horrible. The Oilers were the first to score – usually a good sign for them – and things were looking promising. Eberle returned after having been out last game. With a goal under their belt less than 5 minutes into the game, it seemed as if they were shaking off their previous loss and ready to roll.
Luke Gazdic and Kevin Westgarth got into a fight about 8 minutes into the period – which some (Don Cherry) looked down upon because Gazdic kept his helmet on. A lot of the time, a fight has been good for the Oilers in particular. It gives them a little boost of energy, a little aggression and desire to play harder – there are many a times a fight has been the spark to propel them to a victory.
It did provide a spark in this game – but unfortunately, it was for the Flames. It seemed fine closing out the first period, a 1-1 tie isn't that difficult to jump back from.
But the second period was a massacre. The Flames started with a goal a few minutes into the period – after which Eakins promptly put in the 4th line. Of course. Because clearly the best decision when the Flames walk into your house with a lighter is to give them kindling and let them burn the house down.
Which they did.
Having established a lead, Calgary increased it with goals at 5:20, 6:00, 7:18… it doesn't end.
They switched out goalies (Ben Scrivens coming in to relieve Viktor Fasth).
With about five minutes left in the second period, Edmonton forward Taylor Hall got (frankly, quite understandably) upset with how the game was going and tossed his water bottle, splashing some onto Dallas Eakins.
Eakins scolded Hall for the impulsive gesture, which – while a bit childish, yes – is something most fans were probably doing the equivalent of at home. (If we're being completely honest, when he threw the water bottle I sort of wished he had thrown it directly at Eakins.)
The third period continued the massacre, as the Flames got goal after goal after goal, bringing the final tally to 8-1.
I think Oilers fans have huge hearts and a lot of passion – with the exception of a few jersey tossers, they have tolerated the seemingly centuries long rebuild, and they have kept coming to games this season despite the tailspin.
The organization needs to figure it out, however, because there's no guarantee that fans will keep up this level of patience forever.