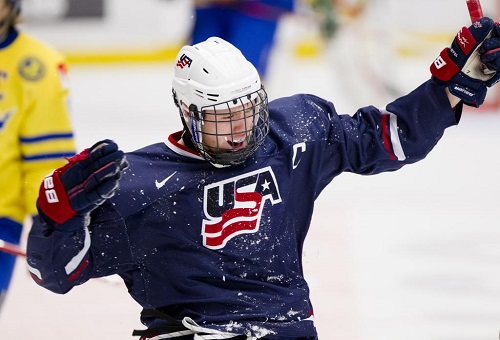 Coming off of a 3-2 win against Minnesota State University, USA hockey made the first round of roster cuts this morning as the US National Junior Team prepared to fly to Sweden. Defenseman Anthony DeAngelo (Sarnia Sting/2014 elig.) and forward Ryan Fitzgerald (Boston College/BOS) were both released, along with injured forward J.T. Compher (Univ. of Mich/BUF).
This year was the last year Fitzgerald was eligible to play in the World Juniors. GM Jim Johannson noted that while Fitzgerald is a "wonderful hockey player", special teams is a priority for USA Hockey when selecting the final roster this year. "He was an in-between guy for us in this regard," Johannson said. "I really wish he was a '95 with experience because he's a really good hockey player."
With regards to defenseman Anthony DeAngelo, Head coach Don Lucia noted that the team wanted size on the blue line, and that they also felt they had some guys that were a little more prepared to play an offensive role on defense. DeAngelo is a '95 birthday, so he has a shot at making the team next year, as does forward J.T. Compher.
Compher blocked a shot with his left foot in practice on Monday that left him off the ice and in a walking boot on Tuesday as the team prepared for and played their first exhibition game. Tyler Motte, Compher's teammate at the University of Michigan, said that when he spoke to Compher Tuesday night he told Motte that his foot was broken. Lucia said that losing Compher, a versatile center that probably could've played on any of the team's four lines, is tough. "It would've been a good bet that he probably would've made the team," Lucia sad, "but now it gives someone else an opportunity."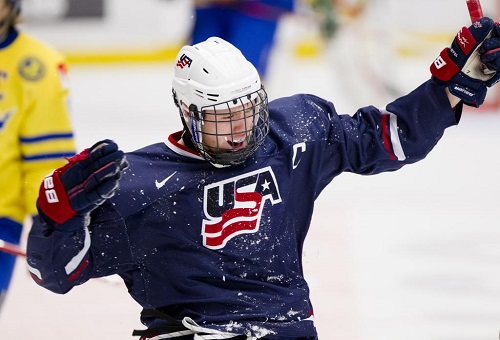 That someone could be Jack Eichel, the youngest player at camp. Not draft-eligible until 2015, Eichel has nevertheless managed to impress USA Hockey. He's been with the US NTDP's U-18 team all season, and has 39 points (19G, 20A) in 22 games. Eichel has even drawn comparisons to Canada's Connor McDavid, and many already forsee him going as high as the top five in the 2015 draft.
"Two things pop out about Jack Eichel," said Johannson. "He's a dynamic offensive player, and what this camp presents for him is another challenge to show how high a level he can go at this stage in his career." Johannson noted that he believes Eichel is also ready to play at this level physically, even though he is much younger than many of the other players.
"I thought I had a pretty good first half of the year, and being a part of USA Hockey makes it easier for them to give an underage player an opportunity," Eichel said. "I think that they saw something in me and I just have to do what they ask. When you get an opportunity to play for the United States of America in a tournament like this it's an honor. I want to show that I do deserve to be here."