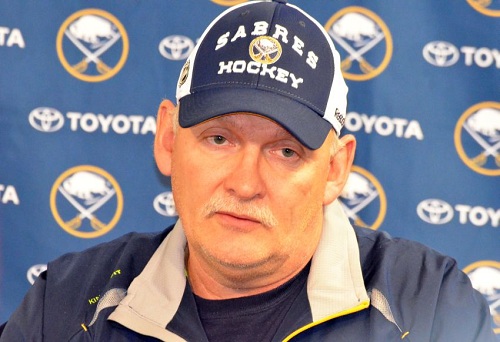 The Buffalo Sabres announced earlier today that long-time coach Lindy Ruff was fired this afternoon. Ruff had been the longest tenured coach in the NHL and was in his 16th season with the team. The Sabres had started off slow this season and currently have a 6-10-1 record. The team announced that Ron Rolston, the head coach of the Rochester Americans, the Sabres minor-league affiliate, has been named interim head coach for the rest of the season. GM Darcy Regier said Rolston has "a good hockey club right now."
Regier said that he started having conversations with Ruff on where the team was going. He also stated that they had been searching for answers to too many questions. The Sabres had been booed several times in their previous game versus the Winnipeg Jets. Regier said "the last game was a tipping point."
Regier also said that it was ultimately his decision and he was not pressured by owner Terry Pegula to make a move. "There are a list of unknowns with the team right now" Regier said. He said one of the unknowns was how the Tyler Ennis, Marcus Foligno, and Drew Stafford line was so productive at the end of last season. However, they have been very ineffective this year. Regier believes that the lineup needs to be altered and sent F Cody McCormick on waivers. F Kevin Porter has been called up and he has 44 points in 48 games for the Rochester Americans.
Regier mentioned that Ruff addressed the team before they left for Toronto where they play the Maple Leafs on Thursday. Regier believes the players will respond to this move. He is "not angry at the players, anger is poison" and he doesn't spend any time on it.
Regier thinks Ruff should be remembered as a great coach. In addition, Ruff will have his opportunities to coach elsewhere in the league.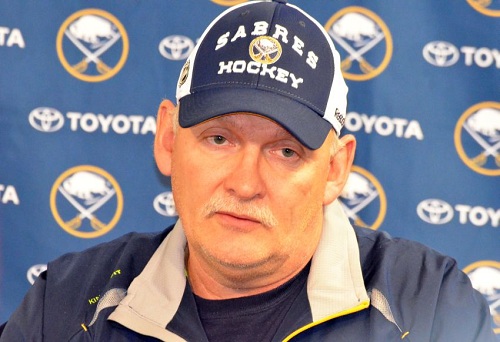 Ruff, a defenseman, was drafted by the Sabres in the 2nd round of the 1979 draft. He was known for his toughness and his hard work. Ruff would eventually be named captain and replaced Gilbert Perreault from 1987-1989.
Ruff was hired by the Sabres in July 1997 and reached his only Stanley Cup appearance as Sabres head coach in the 1998-1999 season against the Dallas Stars. The Sabres would lose the series in 6 games on Brett Hull's famous "no-goal".
Ruff received the Jack Adams Award for coach of the year for the 2005-2006 season.
Overall, Ruff had a 571-432-78-84 record during this tenure with the Sabres. His 571 wins rank second in NHL history with one team, trailing Al Arbour who won 740 games with the New York Islanders.