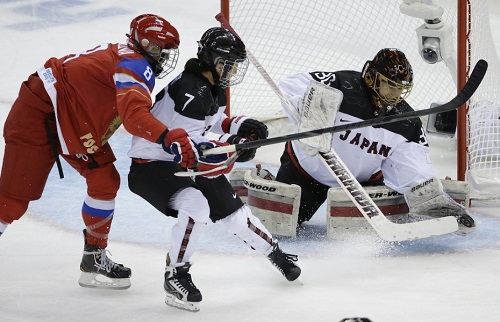 After their second win in these Olympics, it's pretty obvious the Russian women's team is using their home-team position to their advantage. Some may argue that playing on home ice is not necessarily an advantage, but the Russian women seem to be feeding off the crowd's energy, turning home ice into their best playing stage.
The team beat Japan 2-1 in an extremely controversial game. Why was it controversial you ask? I'll explain later in the article. (Now you have to keep reading, see what I did there?).
Russia had a few advantages going into this morning's game. The Japanese players are smaller than the Russians, meaning they can't match the team's physicality. Their confidence was up after winning their first game against Germany, who was considered by many to be their biggest competition in the B Pool. On top of that, Japan lost their first game 1-0 to Sweden, leaving them with lower confidence, especially for a team who hasn't seen Olympic ice since they hosted the games in 1998.
Once again, Russia put early pressure on their opponents from the very start of the game, something they did well against Germany on Sunday. They had some amazing scoring opportunities, but couldn't manage to put the puck away until past the halfway mark of the first period. Tatyana Burina opened up the scoring with an unassisted goal at 11:39. The shot from the point went 5-hole on Japan's goaltender Nana Fujimoto, who was one of Japan's strongest players throughout the game.
Tomoe Yamane took two penalties for Japan in the first period, first at 14:35 for hooking, then again at 19:22 for body checking. For the second time, Russia started the second period on the power play, but couldn't find the back of the net during either 1-man advantage.
The controversy of this game came close to the end of the first period, when Japan scored what they thought was a goal. The puck clearly went into the net, but the officials didn't signal for a goal, and the timekeepers didn't get their attention in time for them to review the goal. Once the puck has been dropped, a play can't be reviewed, so Japan's goal was never counted. 17-year-old Rui Ukita would have been credited with her first Olympic goal had it been reviewed.
Russia had lots of energy again in the second period, but you have to wonder if that would have been different if Japan's goal had been acknowledged and counted.
Unlike their game against Germany, Russia lost a little steam at the beginning of the third period, but they were able to bounce back towards the end.
Ayaka Toko made up for Japan's unacknowledged goal with a soft shot at 40:33. Less than a minute later, Russia took their first penalty of the game, giving Japan some energy to try and come back from their one-goal deficit.
The home team took three penalties in the third; Alexandra Vafina at 41:02 for tripping, Inna Dyubanok at 47:34 for interference, and Olga Sosina at 50:22 for hooking. Instead of allowing any goals against, they went ahead and scored a shorthanded goal on their third penalty. Vafina made a great play off the boards and beat three Japanese players to get to the goal. As expected, the crowd at Shayba went absolutely nuts, along with the Russian bench.
Japan had some close calls at the Russian net, but couldn't manage to send the game into overtime in this make-or-break game.
The Russian Federation will head to the Quarterfinals on Saturday against Sweden. It will be their second meeting in these Olympics after their round robin game on Thursday at 21:00 Sochi time.
What's most concerning about this game is that a mistake of this scale was made during such an important game at the Olympics, a stage which is more important to most than any other, especially for a country like Japan who is not the first country to come to mind when you think of hockey.
Does Russia deserve that Quarterfinal position? There's no way to know for sure. Even if Japan's initial goal had been counted, the Russian team could have scored a third or fourth goal to win in regulation, the game could have gone into overtime or a shootout; there is really no definitive answer as to which team truly deserved the win today. What we do know, is that this is a big blow for the Japanese team, and an embarrassing moment for Sochi's hockey officials.