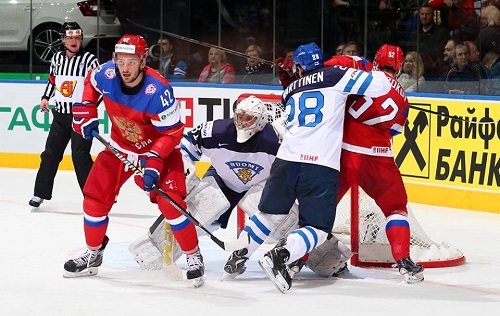 Another day, another win for team Russia in the IIHF World Championships. After routing Switzerland 5-0 in their opening game, Russia took to the ice again Finland with the same results, this time winning 4-2.
Russia's Victor Tikhonov opened scoring just 1:39 into the game, 86 seconds later than their first goal came against Switzerland. After a few penalties were taken by the Finns, powerplay specialist and goal-scoring extraordinaire Alexander Ovechkin made them pay and extended the lead just three minutes later.
Finland cut the lead in half on the man-advantage minutes later when Tikhonov took a holding penalty. The period ended without any more scoring, but plenty of action. Things got chippy between the two clubs, and several penalty minutes were handed out, including a 10-minute misconduct to Finland's Petri Kontiola. Two minutes and change into the second period, Russia's Nikolai Kulemin scored a short-handed goal to put the Russians up 3-1. Sergei Kalinin scored for Russia to make it 4-1 but Finland cut the lead in half again as Jere Karalahti scored with less than a minute left in the period.
The third period went scoreless and Russia skated away with their second victory in as many games, giving them a perfect six points. The Finns are a good team and provided Russia with a test, but the team's offense as well as the goaltending from Sergei Bobrovsky made the win look easy. Early on, the Russians look like one of the more dominant teams in the field. They face a challenge tomorrow as they take on an undefeated American team. This will be a good matchup early in the tournament that will test the Russians and should serve as a benchmark to show how good this team really is.