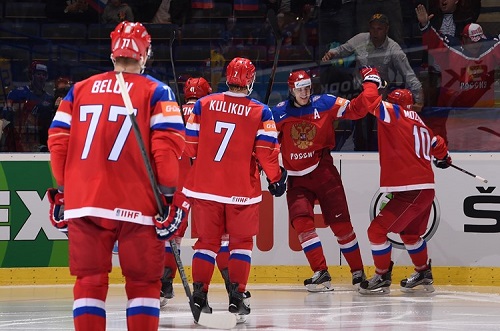 Despite blowing a third period lead Russia was able to use its offensive firepower to mount a late comeback and defeat a very tough Swedish team.
In what was a penalty-filled game – 15 minor penalties were called between the two teams – Russia only managed one powerplay goal, despite having the best powerplay efficiency of all teams in the round robin. And it was the power play that started the offensive barrage as Sergei Mozyakin scored just past the half-way point of the first period to give Russia a 1-0 lead.
Sergei Shirokov doubled the Russia lead just over five minutes later, giving Russia a 2-0 lead going into the intermission. Vladimir Tarasenko – known best for his dazzling dangles and sensational snipes – also picked up two assists in the period.
Evgeni Malkin stretched Russia's lead to 3-0 – the new "worst lead in hockey"? – early in the second period, chasing Jonas Enroth from the Swedish net in favour of Anders Nilsson. The move seemed to provide a bit of a spark to the team as Sweden scored the game's next goal thanks to a John Klingberg powerplay goal that trimmed Russia's lead to 3-1.
Russia's lead was shrunk once again minutes into the third after an Anton Lander goal, with Oliver Ekman-Larsson – the top scoring defenceman in the round robin – drawing an assist. Then, with just over five minutes remaining, Loui Eriksson completed the comeback for Sweden (with Lander drawing an assist to pick up his third point of the game). But the excitement didn't last long as Malkin scored his second goal of the game just 26 second later to restore Russia's one-goal lead. Tarasenko then iced the game with an empty netter to secure a 5-3 win.
Sergei Bobrovsky was solid for much of the game in the Russian net, stopping 25 of the 28 shots he faced – including 12 of 13 in the second period when the Swedes outshot Russia 13-8. His performance in the third left something to be desired but, as it has done at many points throughout the tournament, Russia's potent offence compensated for the shaky performance.
The win sets up a semi-final matchup with the United States, against whom the Russians have had some memorable matches in recent years. The two met earlier this tournament, when the Americans came out victorious by a 4-2 final. The next chapter of the rivalry goes May 16 at 2:15 p.m. EST.