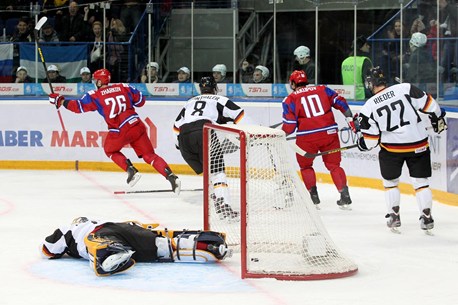 I don't think anyone expect much competition for the Russians against the 0-2 Germans, who were outscored a combined 17-3 against Canada and the U.S. And let's just say that expectations were met.
One of the first things you notice about the Germans is that they are a physical team, which, for some reason, doesn't surprise me. After icing in the first three seconds, there was an iffy moment in the first minute when Nail Yakupov tried to dangle in his own end and lost the puck, allowing the Germans a decent chance. But they went on the board quickly (in the first 90 seconds), which also doesn't surprise me, on a nice play in the neutral zone that turned into a 2 on 1, with Mikhail Grigorenko giving the nice dish to Nikita Kucherov who put it home.
The second thing you might notice about the Germans is that all five players collapse ridiculously down low, even more so than Dale Hunter's Washington Capitals. Not that it helped them.
Russia killed off its first penalty and had three almost breakaways, including one for Yakupov, who had it bounce off his stake, but he made up for it by cashing in on a rebound shortly after penalty time expired, earning him his first goal on the tournament (his first of any of his three junior tournaments). A few minutes later, he set up Danil Zharkov on a slick pass across the net to make it 3-0 Russia in the first 13 minutes. He must have heard me criticizing him in my last Russia post.
Germany started the second with some pressure and some pretty good chances resulting from long rebounds from Andrei Vasilevski and sloppy defensive coverage, and almost cashed in at the 14-minute mark, but Vasilevski came up big with the glove. Except for some brief PP time at the end of the period, it was all Russia in the period after that, though. The Germans just couldn't match Russia's quick puck movement, their speed, their stick-handling, their ability to win the one-on-one battles, and their general superior knowledge of the game.
Once again, in what seems to be a recurring issue (although they were shorthanded here), Russia struggled in the first minute of the period. Vasilevski made a huge save to keep the score 4-0. Then Yaroslav Kosov, who's been most noticeable for his penalty killing and willingness to sell out to block shots, made it 5-0 on a wrist shot that probably should have been stopped. He also increase the lead to 6-0 on a scramble play with a shot that would have been a few feet wide if it didn't deflect of the German defender's skate directly into the net, giving him his second fortunate goal of the game.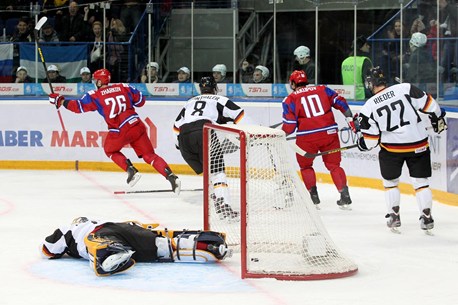 I want to take a moment to commend Tobias Reider on Germany for a ridiculous play that prevented the score from turning to 7-0. Anton Slepyshev jumped on the loose puck and fired at what seemed to be an empty net, but Reider, who was standing at the side of the net, calmly stuck the blade of his stick exactly where the puck was headed and kept it out. It was really like something out of the Matrix.
Did I say that Germany prevented the scored from becoming 7-0? Well, yes, but only momentarily. Off a Germany mistake in the neutral zone, Maxim Shalunov took the puck and slid it across to Kozov, who picked up the hat trick, finally earning what one would deem a "legitimate" goal. He didn't earn the player of the game award, though, maybe because the team executives, who vote on the award, agreed with my sentiments that his first two goals were a bit lucky. Although I feel like he deserved the award after his efforts.
While the Russians dominated for the most part, there were some defensive lapses, and the Germans could have easily put up a couple of goals if not for the flawless play of Vasilevski. Long story short, while everyone on Russia seems to be an offensive wizard, they still need to work on team defense a bit, specifically on covering players and jumping on rebounds.
Grigorenko has looked like the best forward on the ice over Russia's first three games, picking up a couple of assists in today's game. Russia currently leads group with eight points at 2-1-0-0. Defenseman Albert Yarullin has a goal in each game (including the game winner against Slovakia). Germany has now been outscored 24-3 in their first three games. Yikes. Russia's next game is on New Year's Eve (Monday) against the dreaded Canadians at, once again, 9:00 a.m. EST.