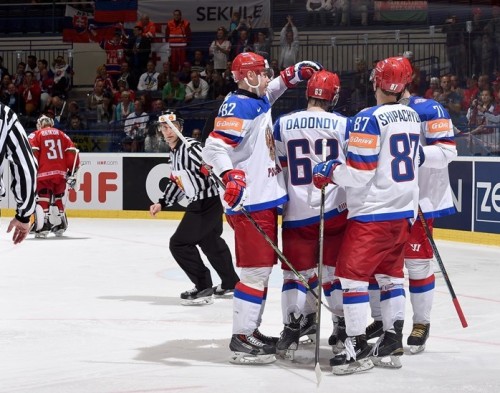 Needing to make a statement after a successful but lackluster start to the World Championships the Russians did just that Saturday as they laid a shellacking on Belarus.
Russia wasn't having a bad tournament per se – only one loss in four games – but they were only barely squeaking by some poor competition (Norway and Denmark, for example). Belarus, meanwhile, was enjoying some relatively unexpected success that included a 5-2 win over the United States two days prior.
But when the two met May 9 the Russians looked like a much different team than the one from earlier in the tournament. They were finally able to match their strong offensive presence that had been consistent throughout the tournament with some tight defensive play.
Ilya Kovalchuk got the onslaught started in the first period with a goal – the only one of the period – assisted by Artem Anisimov and Maxim Chudinov. While the first period wasn't very exciting in the way of offence, the second and third periods were quite the opposite.
Vladimir Tarasenko opened the scoring in the second period within the first two minutes, which was followed by a Vadim Shipachyov powerplay goal eight minutes later. That was the last action Belarussian goaltender Kevin Lalande saw as he was lifted in favour of Igor Brikun. Artemi Panarin welcomed Brikun to the game with a goal minutes later to extend the lead to 4-0.
The Russians didn't let up in the third period either as Sergei Shirokov, Yevgeni Dadonov and Evgeni Malkin each scored to give the Russians a 7-0 lead that held as the final. In all, seven players finished with two points in the game: Panarin, Malkin, Anisimov, Dadonov, Kovalchuk, Shipachyov and Tarasenko – Anisimov being the only one in the group to not score.
But, as mentioned, it was a much improved effort all around from the Russians who were great on the special teams side of the puck. Three of their goals were scored on the power play – another on a penalty shot – and they went 2-for-2 on the penalty kill.
It was also a much better effort in net from Sergei Bobrovsky who wasn't tested much (only 13 shots) but stopped everything he faced. That was a far cry from earlier games when goaltending was letting the team down – two goals on 19 shots against Norway, three goals on 25 shots against Slovenia, four goals on 20 shots against the United States and two goals on 20 shots against Denmark.
The win moves Russia into a tie with the United States in Group B with 12 points, but the Americans hold the tiebreaker, putting them in first place and the Russians in second. Up next for Russia is a matchup against Slovakia May 10 at 2:15 p.m. EST.