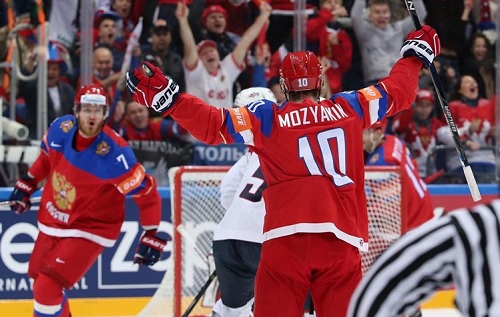 All it took was 6:23.
Vyacheslav Voynov's early goal set things in motion. And, by the time Russia and the United States left the ice, the home team stood victorious, receiving goals from six different players in a 7-2 demolition of the Americans in the bronze medal match at the 2016 IIHF World Championships.
While Voynov's tally kicked off the scoring from the blueline, the Russian forward corps carried the brunt of the load. Led by a bracee from veteran winger Sergei Mozyakin's, forwards accounted for six of Russia's seven markers on the night, chasing starting American netminder Keith Kinkaid after two periods of play.
A two-goal first frame gave the Russians momentum. Following Voynov's first of the tournament, Mozyakin converted a power play opportunity for his first of the night.
It was over after the second stanza.
In spite of being outshot 13-9 in the frame, a three-goal burst–two of which came courtesy of high-flying linemates Evgeni Dadonov and Artemi Panarin–buried any fleeting hope of an American comeback. Winnipeg Jets' pivot Ivan Telegin also found his way onto the scoresheet, nullifying Frank Vatrano's goal and helping to widen the gulf to four.
A goalie swap and another quick Vatrano strike gave the Americans a slight push, but Russia was quick to snuff out any pretense. Upping the pressure, it outshot the United States by four, strafing understudy Mike Condon with 12 shots on goal.
Notching his second of the night, Mozyakin wristed one home from the slot after breaking free of his mark. Captain Pavel Datsyuk posted his 11th point through 10 games with the primary assist. And with the Americans in a worsening state of disrepair, the Panarin-Shipachyov-Dadonov line ended its tournament on a high note, as each member notched a point on Vadim Shipachyov's final power play tally with seven seconds remaining.
The combination locked down the tournament's individual scoring leaderboard, sweeping the top three spots.
Concluding the tournament, the win gives Russia its third consecutive medal at the IIHF World Championships under head coach Oleg Znarok, closing a successful–if slightly disappointing–competition for the team.