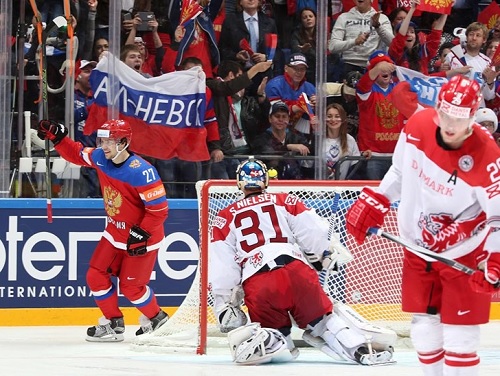 It was over in minutes.
With seven skaters registering two points or more, team Russia blasted Denmark, handily winning its 2016 IIHF World Championships group stage match-up by a score of 10-1.
While the Russians received contributions throughout the lineup, the sensational line of Artemi Panarin, Yevgeni Dadonov and Vadim Shipachyov powered the offense, playing a role in six goals and combining to produce 14 points.
Peppering goaltender Simon Nielsen's cage with 19 shots, Detroit Red Wings defender Alexei Marchenko began the shelling 2:38 into the contest, converting a Dadonov feed for his first goal of the tournament. After a string of Danish penalties, Maxim Chudinov and Nikita Zaitsev scored less than a minute apart, giving the Russians an insurmountable three-goal advantage heading into the first intermission.
It was Denmark, though, that would draw first blood in the second: Finishing a passing play from fellow NHLers Lars Eller and Nikolaj Ehlers, Jannik Hansen beat Russian goaltender Sergei Bobrovsky with a hard shot, chipping the Russian lead to two. However, whatever momentum that was generated was quickly snuffed out by another Russian barrage. Sparked by a Sergei Mozyakin brace, team Russia rattled off four to end the frame.
Penalties once again doomed the Danes in the third. Committing a pair of minor penalties–two of eight on the night–Denmark found itself shorthanded on two separate occasions.
Russia was happy to oblige, sandwiching an even-strength Shipachyov marker with its third and fourth power play goals of the night courtesy of linemates Shipachyov and Panarin. Both would close their nights with five points apiece.
By the time the final horn signaled the end of the drubbing, Russia had posted the first double-digit goal total of the tournament. The showing planted all three members of the Dadonov-Shipachyov-Panarin line in the competition's top-three scorers and brought Russia within striking distance of the first-placed Czech Republic.
Scheduled for a day off, team Russia will take the ice next against fourth-placed Switzerland on Saturday, May 14th, hoping to bag the victory and capitalize on any potential Czech mishaps.