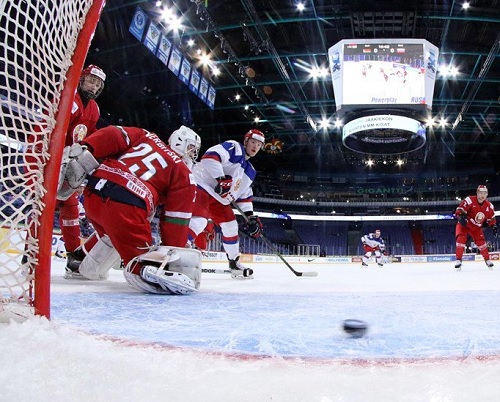 The underdog story: David vs. Goliath, Rocky vs. Drago. In these purportedly one-sided matchups, it's the heavy-hitters that, on occasion, find themselves–asses firmly planted on the pavement–destitute, robbed of a sure victory.
This time, Goliath returned the favor.
In their third game of the 2016 IIHF World Junior Championships, Group B-leading Russia squared off against bottom-feeding Belarus, winless to this point in round robin play.
Much like they have over the history of their matchup–one that, prior to this game, showed a 37-1 goal differential in favor of the Russians–Team Russia dominated from the get-go, posting three in the first period and outshooting the Belarusians 32-18.
Skating in front of Washington Capitals' first round pick Ilya Samsonov, the Russians survived an early shorthanded scare, bailed out by a miraculous paddle stop courtesy of Samsonov. After that, it was all Russia: On a powerplay of their own, Kirill Kaprizov slung a pass from behind the net to Vladislav Kamenev. Ghosting into the faceoff circle, Kamenev sent the puck cross ice, feeding an open Maxim Lazarev, who viciously wristed a shot into a yawning cage.
Five minutes later, the Russian power play would click once more. Operating behind the net, Pavel Kraskovski pushed the puck to an unchecked Alexander Polunin. Having slipped his mark, the diminutive Polunin glided into the slot, one-timing his finish past a deserted Vladislav Verbitski.
Capping an explosive first period, Kamenev worked his way into the goal-scoring column of the scoresheet, deflecting an Ivan Provorov shot from the point and widening the scoring gulf to three. A scoreless second period ensued, and with the game all but won for the Russians, Belarus drew blood, notching their first goal against Russia in 15 years. Cancelling out a Russian defender along the boards, Alexei Busko pushed the puck to 5'9″ Alexei Patsenkin. Out-muscling forward Andrei Kuzmenko behind the net, Patsenkin latched onto rubber, heading right before slicing left and powering home a wraparound attempt past a misdirected Samsonov.
With the shutout spoiled, Russia rifled back with another goal of their own: Blazing down the ice on an odd-man rush, Polunin carried the buck along the left-wing side. With the 6'4″ Kraskovski crashing the net, Polunin cut towards center ice, double-pumping a defenseman to the ice before ripping his second of the game past Verbitski, blocker side.
Gleaning eight of a possible nine points through three games thus far, Team Russia will have an off-day before heading back to the Hartwall Arena to take on fourth-place Slovakia in their final fixture of the group stages.