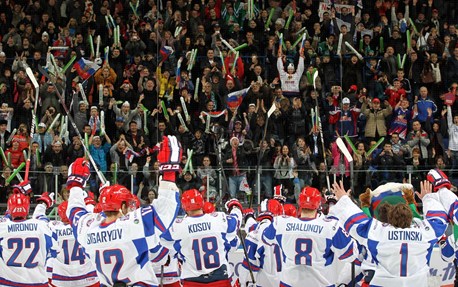 The atmosphere was obviously amped for this bronze-medal game, in what many thought would actually be the gold-medal game. Possibly trying to emanate the Mighty Ducks from the movies, Russia came out of the gates wearing their red jerseys, but switched to their whites. It wasn't really that dramatic, though, because they switched jerseys before the game started, and only because Canada was also wearing their reds.
Russia was dominated by Sweden in their last game, not getting their first shot until 26 minutes into the game, but it only took them four minutes to score in today's game, as Alexander Khokhlachyov got Russia on the board early with a weak shot that absolutely should have been stopped by Canada's Jordan Binnington.
Boone Jenner of Canada took a stupid penalty by hitting a Russian in the head (apologies on not catching the name), and a little more than a minute after their first goal, on the powerplay, Valeri Nichushkin made a slick pass across the slot to a wide-open Nail Yakupov who smacked it into the wide-open net. 2-0 Russia.
But two minutes later, Russia took a penalty, and after a failed clear on the PK, Ryan Nugent-Hopkins scored for Canada. BUT A MINUTE AFTER THAT, directly after a clean faceoff win, Kirill Dyakov just stepped into the shot and ripped it home. It was a good shot, but Binnington did an incredibly poor job of completing his one job, covering the net. So many goals.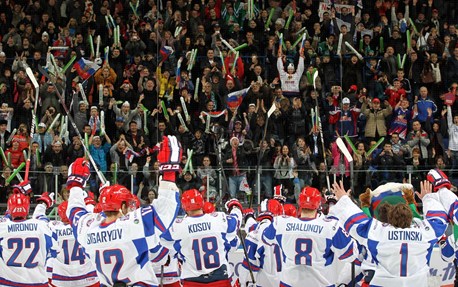 Three goals on five shots, and three goals in eight minutes was enough for Binnington, and he was pulled for Subban, who was pulled after letting in four goals on 16 shots against Team USA two nights before. It seemed like the decision paid off early, as Subban held fast during a flurry of Russian chances, including two shots from a wide-open Nikita Kucherov right in front of the net, who would add another tight-in shot a few seconds later.
After #11(can) Jonathan Huberdeau took an unnecessary shot to the back of a head on Khokhlachyov while he was on the ice after the play was over, Khokhlachyov got up to drill him in the chest and knocked him over, deservedly so, but a penalty nonetheless. They killed that one off, but took another penalty a few minutes later, and Canada cashed in after some heavy pressure. Russia had their chance on the powerplay soon after, but couldn't score. Kucherov had a great chance right after penalty time expired, but Subban saved the day again. Poor Kucherov.
Canada almost scored early in the second when Albert Yarullin, a defenseman, lost his stick and nobody felt the need to give the defender his stick (I don't know why they insist on doing that). Russia took a penalty shortly after, and it only took Canada 30 seconds to score this time as a result of Mark Scheifele being left WIDE OPEN directly in front of the net, giving Canada their third powerplay goal of the game. But after Anton Slepyshev was robbed, Russia quickly answered when Maxim Shalunov had his shot blocked and Yevgeni Mozer picked up the loose puck and fired it in for his first of the tournament.
After some heavy pressure by Canada and an unnecessary Yarullin penalty, Canada scored their FOURTH powerplay goal of the game (five chances) after some furious play to tie it up. Andrei Makarov had to make a diving save across the crease to keep the score tied with three minutes left.
Canada took a penalty late in the second, giving Russia an almost-full two-minute powerplay for the third. It only took them a minute of the new period for Kirill Kapustin to come out from behind the net with the puck and slide it across the net to an open Yakupov, who also came from behind the net and scored.
Russia had another chance on the powerplay but failed to score. And eleven minutes into the period, after a bit of a scramble, Brett Ritchie jammed it in and tied it up at 5-5 on Canada's first even strength goal of the game. Both teams had some very good chances after the goal, but the goaltenders came up big. Canada thought they scored with 2:30 left after a mess of bodies (eight, including the goalie) piled up in front of the net, but the puck hit the post, shortly after Canada had hit the same post.
And for the third straight game, all of them elimination games, Russia found themselves entering a 10-minute sudden-death overtime. And for the third straight game, I prayed that this game wouldn't end in a shootout; it would be awful for a hard-fought game on both ends, a bronze-medal game, a game that would determine which team would be awarded medals and which team went home with nothing, to be decided by a skills competition featuring maybe five players from each side.
And it didn't. After a Canadian forward barreled over Makarov, briefly taking the goalie out of the play (which should have been whistled dead), it took a crouched Mikhail Grigorenko, probably Russia's MVP of the tournament, to make the right-leg save on a shot that would have otherwise gone in to keep Russia's hopes alive. And on the very next shift, Valeri Nichushkin burned Ryan Murphy to the outside, cut to the net, and slid the puck home on the other side of the net, his first of the tournament, coming just 90 seconds into overtime. Final score: Russia 6, Canada 5. Bronze medal: Russia. Nothing: Canada.
On their way over to celebrate with the game-winning-goal scorer, some of the Russia players taunted the Canadian players as they passed their bench, which was really in poor taste. But at least the dedicated and passionate Russian fanbase had something to cheer about when all was said and done. The two Edmonton Oiler #1 overall draft picks were named the MVP of the tournament: Nugent Hopkins for Canada and Yakupov for Russia.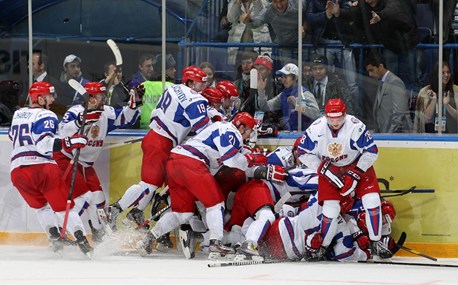 It's been fun covering Team Russia for you guys, and hopefully this damn CBA deal can get done for the NHL and there won't be any shortage of hockey.