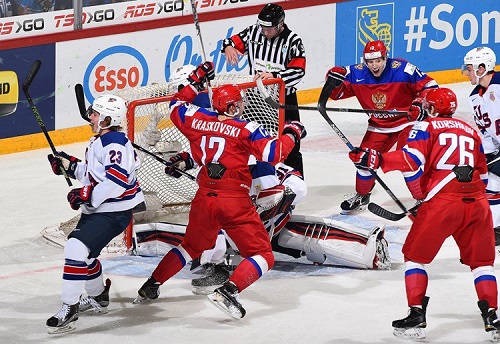 In most cases, "third time's the charm" applies fairly well.
Tell that to the Americans.
Falling short of their ultimate goal, the United States of America's entry into the 2016 IIHF World Junior Championships was sent packing by Team Russia for the third straight year. Although the Americans built off of last year's fifth-place showing, their 2-1 defeat at the hands of the Russians continues a streak of subordination to their Cold War counterparts.
Defense was the name of the game; in net, American stalwart Alex Nedeljkovic–the tournament's leading goaltender in terms of save percentage and goals against average–paired against Russia's surprise understudy Ilya Samsonov. However, in spite of his teammates' outshooting the opposition 14-9 in the first period, Samsonov–manning the net after incumbent Alexander Georgiev ceded control–cracked first, beat by a Christian Dvorak tap-in from close.
Playing from behind, the Russian attack found another gear, converting two of 13 shots while choking the American offense to a measly five. Catalyzing the process, 6'4″ right wing Yegor Korshkov played a role in both Russian goals, assisting on Pavel Kraskovski's even-strength equalizer before potting a powerful game-winner 2:48 later. In the defensive zone, Samsonov stayed sharp in spite of limited action.
However, in the third–with the Americans in desperation mode–Samsonov turned aside all 13 shots against, surviving a two-minute minor for too many men in the process. Unbeatable, the 2015 first-round selection of the Washington Capitals made several stellar saves, preserving the tenuous Russian lead and populating the highlight reel. With a fearless defense blocking shots in front of him, Samsonov held on for the win, turning in a workmanlike .963 save percentage on 26 saves.
Following their emotional victory, Team Russia will skate against inspired hosts Finland–fresh off of a two to one victory of their own over rivals Sweden–in the tournament's championship game. The likely-hostile Hartwall Arena will play host to the Russians on January 5, who seek to win their first gold medals since the 2011 competition in Buffalo.