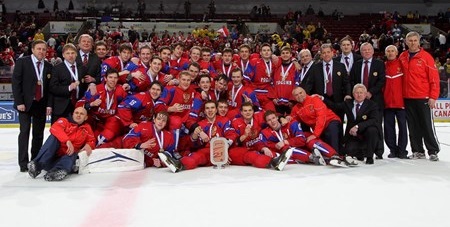 Ok guys, I've got a five hour road trip in the not-so-distant future, so allow me this one article to be short, sweet, and completely off-base.
Team Russia hauls home a second consecutive bronze medal at World Junior play, defeating Canada by a grand total of 2-1. Officially throwing Canada into a two-year medal drought (OH NO), Eduard Gimatov potted the game-winning goal, the likes of which I can't seem to view online because of an apparent boycott of anything Russian by TSN.ca. Andrei Mironov notched an assist, all the while being constantly reminded that it was his fault that Swedish defenseman Jesper Petersson went Steven Seagal on his face, and that his suspension for today's gold medal clash against Finland was entirely Mironov's doing.
Surrendering the first goal for the umpteenth time this tournament, Canada found themselves in an early hole after Mikhail Grigorenko scored an unassisted goal to open the scoring account for the Russians, his cross-crease pass deflecting off of defenseman Matt Dumba and into the Canadian net. Gimatov would then pull through in the clutch, posting the eventual game-winner in the first period, affording Russia an early 2-0 lead. Neither team would tally in the second frame, with Canada's lone marker generated via a Josh Morrissey deflection. Charles Hudon and Adam Pelech were credited with assists.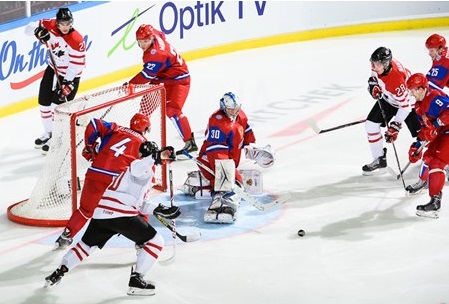 Canada, done in by a lack of finish, saw several prime scoring chances turned away by Russia's Player of the Game Andrei Vasilevski. The Russian netminder turned in a scintillating performance, blocking away 30 of 31 attempts for a sparkling .968 save percentage. Montreal Canadiens' second-round pick Zachary Fucale played equally well, matching his Russian counterpart with 30 saves, good for a .938 save percentage. Top prospect Aaron Ekblad was named the Canadian Player of the Game, offering little consolation to legions of loyal fans who witnessed Canada's medal hopes shot down by the Russians for a second straight year. The Canadian power play went full-blown AWOL, failing to convert any one of five short-handed opportunities.
Hockey Jesus smiles upon thee, team Russia. Rejoice in his warm, protective glow.