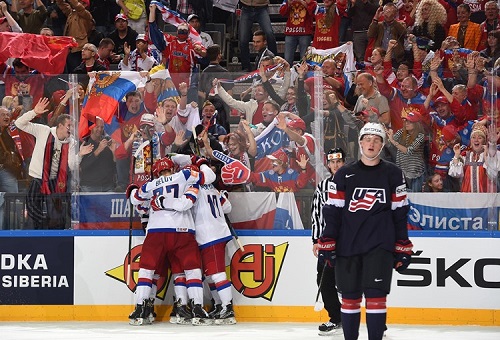 The first two periods left each team holding its breath, but a four goal outburst in the third period led the Russians to victory against the Americans in their semi-final matchup.
What the first two periods lacked in goals they certainly didn't lack in excitement. The first period saw a Russian team that looked to have made a concerted effort to be better than in their round robin game against the Americans. The Russian team came out visibly energized, translating that into some dominant play in the period, outshooting the United States 11-10.
Sergei Bobrovsky still had to be sharp on a few fantastic chances from the United States – namely from Jimmy Vesey – to preserve the scoreless tie going into the intermission. It appeared as though the American team was the one that benefitted more from the between-period break as it had the Russian team on its heels throughout the period.
The youth and speed of the Americans had Russia off balance all period, leading to multiple great chances that were all snuffed out by Bobrovsky. At the other end, Connor Hellebuyck turned in another strong period for the Americans, turning aside all 10 shots he faced. In all, although the Americans held a 23-21 edge in shots, it remained a scoreless tie through two.
The third period would be a much different story, however, thanks to the fact the dynamic Russian offence finally woke up. Sergei Mozyakin finally potted the game's first goal 7:17 into the period – assisted by Bobrovsky, ironically enough – to give the score sheet some action. What followed was a release of frustration of sorts on the part of Russia.
Alexander Ovechkin, fresh off his elimination from the Stanley Cup playoffs, made his impact felt immediately by scoring only minutes after Mozyakin to give Russia a 2-0 lead. After a Vadim Shipachyov goal gave Russia a 3-0 lead, Ovechkin once again got in on the offensive act, setting up Evgeni Malkin for an empty net goal to secure a 4-0 win.
When all was said and done, Bobrovsky turned in his best performance of the tournament, making 35 saves en route to his second shutout of the tournament (the first coming against Belarus in the round robin).
The win now sets up a matchup with Russia's decades old rival: Canada. The Canadians are looking to end their gold medal drought, which should make for a tough test for Russia. The gold medal game goes May 17 at 2:45 p.m. EST.
Love Reading About Hockey?

Subscribe to keep up-to-date with the latest and most interesting hockey news!
| | |
| --- | --- |
| | We hate spam just as much as you |