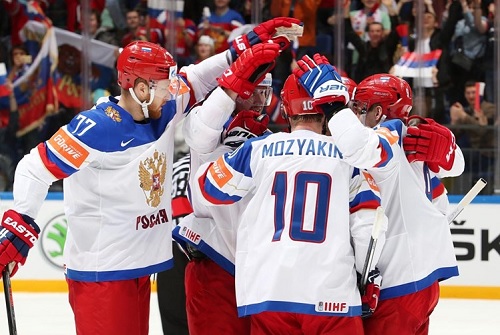 It wasn't supposed to be this close.
After 41 minutes of round robin action at the 2016 IIHF World Championships on Sunday, No. 8-ranked Russia stood tied against underdogs Kazakhstan, all even at four goals apiece. In spite of outshooting the No. 12 Kazakhs 49-19, the game was uncomfortably close.
However, former NHL defenseman Anton Belov's second goal of the day put the Russians ahead for good, willing his team to a less-than-convincing 6-4 victory.
From the opening puck drop, Kazakhstan proved to be a handful. Despite ceding an eight-shot margin in first period shooting differential to their opponents, the underdogs managed to draw blood, posting three goals on nine shots and clawing the game back even on two separate occasions. Special teams proved crucial–both teams potted multiple power play goals, combining for six on the contest and three in the opening frame.
However, defense–or lack thereof–characterized this match. Manning the Kazakh net, 36-year old Vitali Kolesnik held his line to the best of his ability, turning aside 43 shots and giving his outgunned teammates a chance to steal the victory. Opposite him, Sergei Bobrovsky clocked an abysmal performance–the former Vezina trophy winner finished with a putrid .7895 save percentage.
Russia needed a breakthrough: Skating against an opponent playing its second game in as many days, they pounded away at the Kazakh cage, throwing 32 shots on net in the game's final two periods.
At 38:02, Anton Belov found it.
His second-period power play goal cleaved open a one-goal advantage for the Russians. And, although Barys Astana rearguard Maxim Semyonov would knot things up at four goals each a minute into the final period, the 6'4″ Belov once again pulled his team back from the brink of an upset.
Receiving a Maxim Chudinov pass, Belov let loose from the point, his long-range effort deflecting off of a Kazakh stick and past the outstretched glove of Kolesnik to gift the Russians their fourth lead of the game. This time, they refused to relinquish their advantage, doubling their edge courtesy of a Roman Lyubimov deflection that iced the match for good. Belov would pick up the primary assist, capping his four-point, Player of the Game performance for the hometown Russians.
Russia faces a quick turnaround, slated to skate against the Latvians at the Moscow Ice Palace on Monday, May 9th. Scheduled to face last-placed Norway on the 10th, Kazakhstan will look to return to the win column once more.