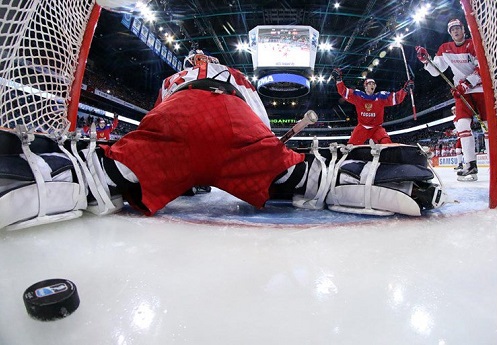 It was almost the shocker of the tournament.
Pitting a heavily favored Russian contingent against an underdog Danish squad, Sunday's quarterfinal tilt between the two teams wasn't the blowout everybody expected. Taking a superior opponent right down to the wire, Team Denmark very nearly stole the spotlight, conceding a tying goal to Russia's Vladislav Kamenev with less than a minute remaining in regulation time. Outmanned and outgunned, Denmark finally crumbled in an overtime period, buried by a Kamenev strike and crashing out of the elimination stage by a score of four to three.
The game opened inconspicuously, following the script it was supposed to run: With Russia outshooting their Danish counterparts ten to six, Lokomotiv Yaroslavl forward Yegor Korshkov potted his first goal of the tournament–and his sixth point through five games–a mere 2:49 into the contest.
For all of their offensive pressure, however, the Russians struggled to solve starting netminder Thomas Lillie. Posting a .927 Save Percentage in regulation, the Vaxjo Lakers' goalie held the fort in the face of pressure, stoning 29 of 31 shots through the final 40 minutes of play.
Piggybacking off of their teammate's strong play in net, the opportune Danes struck back in the second period, notching two against a Russian defense helmed by goaltender Alexander Georgiev. Having relegated Washington Capitals' first-rounder Ilya Samsonov to the bench for stretches of tournament play, Georgiev turned in his worst showing of the tournament since a group-stage loss to hometown Finland. Denting into his .857 Save Percentage, forwards Markus Jensen and Thomas Olsen propelled the Danes out front, giving them a lead heading into the third frame.
A scoreless first half of the third welcomed the Hartwall Arena crowd–an explosive second half would follow. After Russia's Artur Lauta knotted things up at 52:31, Denmark's Emil Christensen would reopen a one goal lead. Faced with the prospect of an unceremonious dumping, Russia threw the kitchen sink at Lillie's cage, unable to solve the Danish goalie.
The Russians would find their answer at the eleventh hour: With Georgiev pulled and 44 seconds left on the clock, Kamenev notched his fourth of the tournament, sending the game to overtime. Riding the momentum, Kamenev completed the brace, sending a jubilant Russian squad through to a semifinal date with a steamrolling Team USA at the expense of an inconsolable Lillie.
One half of the championship game will be determined at the Hartwall on Monday, January 4.