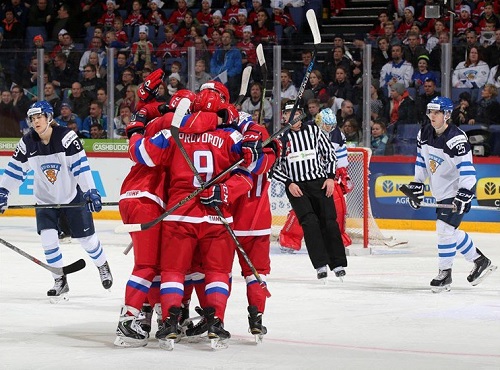 Two days after their sticks fell silent, the Russians rediscovered their attacking prowess.
In a huge Group B matchup at the Hartwall Arena, Team Russia overcame an early two-goal deficit, scoring four unanswered en route to a 6-4 defeat of host nation Finland.
Much like in their opener against the Czech Republic, the Russians initially struggled to get anything going: Outshot 12-8 in the first period, Head Coach Valeri Bragin's boys found themselves in a hole early. A mere four minutes into the frame, forward Sebastian Aho pounced on a big rebound off of netminder Alexander Georgiev's pads, swatting the puck into the net and gifting the Finns the lead.
Less than two minutes later, an equalizer was found in the form of a Kirill Kaprizov one-timer. With TPS Turku defenseman Miro Keskitalo serving a tripping minor, Philadelphia Flyers' prospect Ivan Provorov slid the puck to shootout hero Maxim Lazarev, camped out on the right faceoff circle. Reeling in the pass, Lazarev rifled a feed across the rink, where Kaprizov beamed home a finish from the left faceoff dot.
Following the equalizer, however, the Finns wrested control of the game as Patrik Laine and Aleksi Saarela potted a goal each. Down two, the Russians cranked up the pressure, finally cracking Veini Vehvilainen's goaltending puzzle halfway through the second period. Chipping away at the lead, CSKA Moscow winger Andrei Svetlakov converted a shorthanded opportunity four minutes before the hulking Pavel Kraskovski bounced a cross-crease pass off of Keskitalo to tie.
Much to the chagrin of the Finns, the Russian deluge had only begun: two more goals-Vladislav Kamenev's on special teams, Alexander Polunin's at even strength-in just under four minutes widened the gulf to two with a period of action left to play.
Refusing to bow out on home ice without a fight, Finland tacked their fourth of the game 1:18 into the third, Saarela's brace shaving the gap back to one. Ultimately, though, the Russians emerged with their heads held high: Radel Fazleyev dinged yet another puck into the net off of the helpless Keskitalo, bringing the Russian total to six and awarding the squad a crucial three points in the standings.
Now sole leaders of Group B, Team Russia squares off next against cellar-dwelling Belarus, presented with the opportunity to further strength their grip on the first seed.