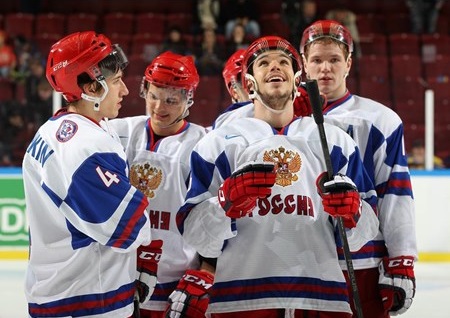 This was a genuinely painful experience to document.
Coupling a combined Andrei Vasilevski/Ivan Nalimov shutout with ten (!!!) multiple-point performances, Russia's entry to the 2014 IIFH World Junior Championships put up five goals in each of the first two frames en route to an 11-0 drubbing of Norway. The beleaguered Norwegians mustered a total of 14 shots on net, occupied more with the mammoth task of absorbing wave after wave of Russian attack than generating offense for their sake. Starting netminder Henrik Haukeland surrendered 10 goals on 27 shots against before being pulled at the start of the third period in favor of understudy Joachim Svendsen, the latter of the pair stopping seven of eight shots on goal.
1. divisjon (the second-tier of Norwegian ice hockey) product Christer Simonsen posted a team-leading minus-one rating, standing in sparkling relief when compared to teammates such as defensemen Mattias Norstebo (minus-five) and Martin Vaakanainen (minus-three). In defeat, Ludvig Hoff managed to tack on 12 PIM's for good measure.
I haven't felt this bad for a team since Tahiti played at the 2013 Confederations Cup.
Finding the score-sheet for the Russians:
Nikita Zadorov (two goals)
Anton Slepyshev (two goals)
Vadim Khlopotov (two goals)
Damir Zhafyarov (one goal, two assists)
Nikita Tryamkin (one goal, one assist)
Vyascheslav Osnovin (one goal, one assist)
Alexander Barbanov (one goal, one assist)
Mikhail Grigorenko (one goal, one assist)
Ilya Lyubushkin (two assists)
Pavel Buchnevich (two assists)
Alexei Bereglazov (one assist)
Andrei Mironov (one assist)
Bogdan Yakimov (one assist)
Ivan Barbashev (one assist)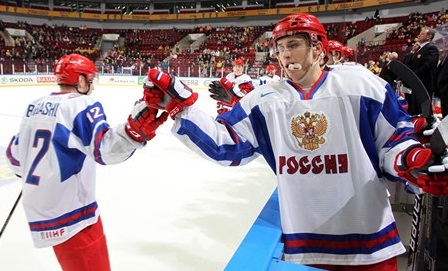 At the contest's conclusion, Norway's Norstebo and Russia's Tryamkin were named Players of the Game for their respective teams.
Not much remains to be said; it can be inferred without much to-do that Russia, indeed, was the superior squad, skating roughshod over their opponent in all three zones. In watching the tilt on sportlemon.tv, however (I'm expecting my computer to either explode or cease to be altogether within the next few hours), it's been made clear that Russia presents a daunting challenge to any team that crosses their path. Possessing a combination of scoring touch, blazing speed and a physicality atypical of Russian teams, this year's edition of the Red Machine relies not on a slew of talented scorers, but a strong foundation in their own zone supplemented by talented forwards in their own right.
Head Coach Mikhail Varnakov's boys will look to continue their torrid pace against Switzerland, squaring off at the Malmo Arena on the 28th of December. Puck drop is slated for 1:00 PM.