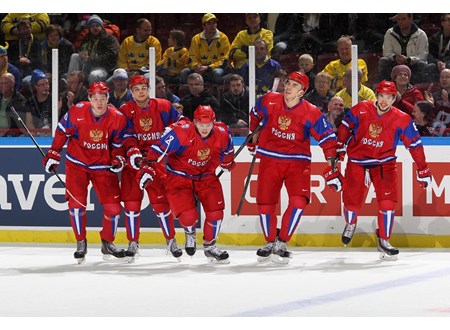 Save for an early chink in their proverbial armor, team Russia strung together a workman-like performance; riding the strength of seven unanswered goals from seven different skaters, the Russian entry into the U20 World Junior Championship turned in a HUMAANGUS BIG victory, defeating their Swiss counterparts by a score of 7-1.
Netminder Andrei Vasilevski, despite surrendering a first period goal (his first of the young tournament), turned away 25 of 26 shots against, good for a pristine .962 save percentage. Furthermore, Russia's battalion of rearguards continue to produce, as five of seven rostered defensemen posted a point in the contest. Leading the charge from the rear, Dynamo Moscow's Andrei Mironov posted a goal- Nikita Tryamkin, Ilya Lyubushkin, Alexei Bereglazov and Nikita Zadorov notched assists.
Not to be undone, Russia's core of forwards lit up Sasha Rochow's lamp, potting six. Scoring for the Russians:
Ivan Barbashev
Bogdan Yakimov
Alexander Barbanov
Damir Zhafyarov
Vyascheslav Osnovin
Mikhail Grigorenko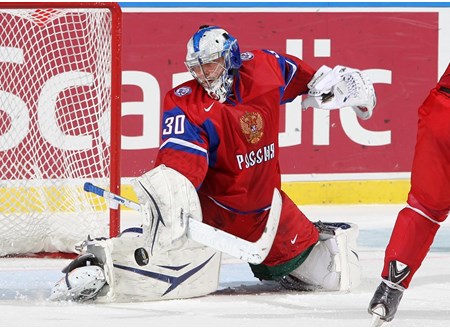 Thus far, Russia has proven themselves serious contenders for the United States' crown. Admittedly, their competition hasn't been of the highest quality-Germany and Switzerland, bastions of hockey dominance as they be, pale in comparison. That in mind, Russia's numbers through the early stages of preliminary matchups are nothing short of incredible. Per the IIHF's official stats page, Russia leads all participating nations in scoring efficiency, penalty killing and save percentage, while placing second in power play conversion. Furthermore, they are one of two squads with a shorthanded goal. Perhaps most intriguing, Russia has managed to dominate every major statistical category while playing incredibly disciplined hockey, tied for dead last in the tournament.
In a losing effort, Jason Fuchs tallied the lone Swiss marker, giving Russia a minor conundrum at the end of the first period. Taking the loss, Swiss netminder Rachow steered aside 27 of 34 shots, equating to an unsavory .794 save percentage. As the game went out of hand, Mirco Mueller-a first-round pick of the San Jose Sharks in this past NHL Entry draft-was given a game misconduct for checking from behind; Russia would score on the ensuing power play. Russia's Osnovin and Switzerland's Fuchs were name Players of the Game.
The question remains-will Russia's early success translate when facing stiffer competition? We'll find out soon enough, as the Russians square off with the Finns in a captivating Group B matchup.
It's time to cook. And by cook, I mean watch Breaking Bad until my eyes bleed.