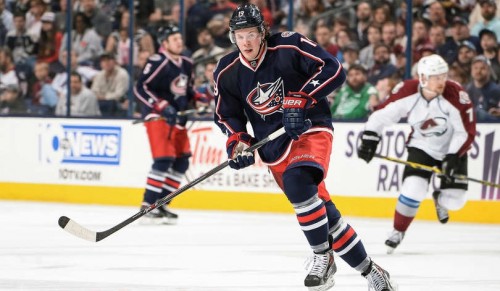 If you are a fan of the NHL and watch it on a regular basis, I'm positive you have heard the name Ryan Johansen. If you haven't heard of the name, get ready; you're going to be hearing it a lot in the near future.
The six foot three 21-year-old center is starting to show his true colours at the NHL level. Although it may have taken a little bit more time than others drafted in the 2010 NHL Entry Draft, which include Taylor Hall, Tyler Seguin, and Jeff Skinner, Johansen is now proving to people why he was selected fourth overall.
Now lets go back to the 2011-2012 season. If you remember, he started out the season playing for the Jackets, and after that 10 game mark it was decided that he was going to stay with the team. As many fans do, they expected Johansen to be the star the team needed, but like most cases it took a little bit of time. Come the memorable 2012-2013 shortened season due to the lockout, Johansen started with the hockey club once again but struggled in the beginning of the year, which led to the team sending him down to the AHL Springfield Falcons.
After being called up again later in the season, Johansen found some chemistry on the checking line where he centered RJ Umberger and Nick Foligno. The line was simply one that had size, speed, and skill.
This year Johansen had – and many people can agree – a breakout year. The kid put up a team leading 63 points in the regular season, scoring 33 goals and recording 30 assists. That right there puts him in the top 35 in scoring throughout the regular season. The potential in Johansen is there and within the next couple seasons expect his numbers to increase further.
After the Jackets season ended, general manager Jarmo Kekalainen only had positive things to say about his team of youngsters.
"We have the youngest team in the league and everyone can get better," he said. "I'm so excited about the potential there. We don't have any guys that are 'over the hill.'
But Kekalainen has been especially impressed with Johansen's play.
"I get goose bumps thinking about where this guy could go with his career. It's basically all in his control," he said.
As before, Johansen is starting off-season training to improve his overall game, but what is going to be new to him come July 5 is that Johansen will become a restricted free agent. It is no surprise that a contract extension is already in motion between both sides.
"We have our [salary] projections and I won't get into those," Kekalainen said, "but I'm not worried about getting him signed. He's a good player for us, and I mentioned he's one of those players I'm excited about getting to the next level."
Kekalainen then went on to talk about what he has said to Johansen.
"I told him: 'we're going to push you.' We have a special player in our hands, and we're going to make sure we push (him) to the next level and he's going to help us. I'm sure we'll get him signed through the proper process and he'll be a big part of our future."
Following the end of the series this year in playoffs, Johansen appears to have a great attitude towards the organization and his teammates. What he does bring to the table is his love for Columbus; letting the jackets' fans – also known as the "5th line" – that he and the rest of the players appreciate this year's turnout, and the incredible support they received along the way.
"You can't thank them enough for the support all year and especially in these playoffs," he said. "It's been one heck of an experience for myself and I had so much fun. We'll be back next year, and we're going to be better."