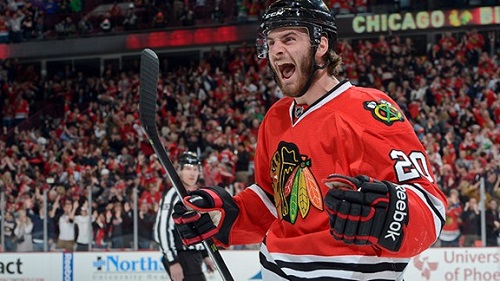 The second-line center position on Chicago's roster slot has been elusive and unstable for the last few seasons.
Last season, veteran Michal Handzus filled the slot and was stable enough to hold the position through the 2013 Stanley Cup Finals. But Handzus was a recent addition, and now Chicago is looking to fill the slot with a more permanent replacement. If they can, the Blackhawks may finally be done with the problem, allowing them to focus on creating stability through the rest of the ranks.
The Blackhawks have several options for who can fill the position, but Brandon Saad is Chicago's best choice. While teammates Andrew Shaw, Marcus Kruger and Handzus all have championship rings and can take over the role, Saad remains the most logical choice.
Saad has been working on taking faceoffs since last season, when he would have to step up to the draw when captain Jonathan Toews would get thrown out of the circle. During training camp, coach Joel Quenneville placed Saad at second-line center between veterans Patrick Sharp and Marion Hossa. He performed well and impressed coaches and teammates.
There are some hesitations with Saad at center however. For starters, this will be the first time Saad will be at the center position in his entire career. The role requires both offensive skills and the ability to come back to the defensive end and play strong on the back end of the ice. Saad has a history of playing well defensively, and prides himself on that. He also has proven that he can score goals. Now he'll need to put all the pieces together.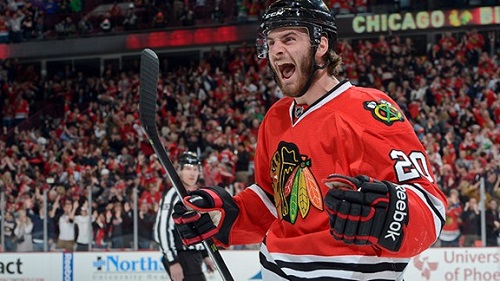 Saad is also only two seasons into the NHL, coming off his rookie season. Granted, he won a Stanley Cup that rookie year, but he's still only 20 years-old and has a lot to learn. But that may be the best time to challenge him. It gives him time to get comfortable in the role and become a forward that coaches love; a flexible, movable forward that can play both center and on the wings and still be effective.
Saad taking over the role will also give other rookies like Brandon Pirri, Drew LeBlanc, Teuvo Teravainen, Phillip Denault, Mark McNeill and Ryan Hartman time to develop their game. This will give Chicago more options to move and place players later on. If there is one thing Quenneville and General Manager Stan Bowman love, its options.
Quenneville has been hinting at placing Saad at center since the end of the season last year, mentioning it through the training camp as well as the summer fan convention. Look for Saad to start out the season in the role between Sharp and Hossa. It's an exciting role for him and the development of his career. All of Chicago, fans included, have learned to trust "Coach Q" as well as Bowman unconditionally, and see positive results. The same rules apply here. Saad will play at center, and if he performs to his full ability, he'll develop the role until he's comfortable and the position is his to keep.