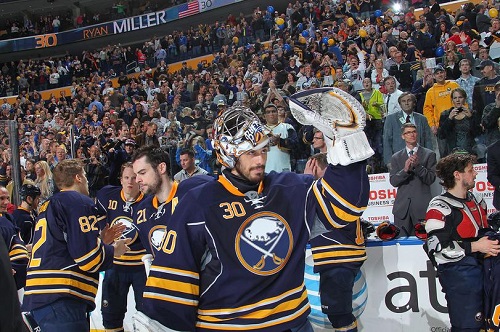 Here we are in late August and goaltender Ryan Miller is still part of the Buffalo Sabres. Now, if the team is in full re-build mode, why hasn't he been traded? Miller has spent his entire career with the Sabres organization. He has 269 wins, 28 shutouts, .915 save percentage and a 2.59 GAA.
The Sabres last season traded away several players from their roster. This included captain Jason Pominville, Robyn Regehr, Jordan Leopold, and T.J. Brennan. 3 defensemen, gone, a team without a leader. GM Darcy Regier said it best at the end of the season press conference when he said that Sabres fans will suffer for a few years. Suffer? Isn't this the same organization that owner Terry Pegula said would win the Stanley Cup in 3 years? Well, 3 years has just about come and passed and the way this organization is managed, they might not win one in 30 years.
Why should Sabres fans suffer? In a town of blue-collar values, shouldn't the fans have a product they can be proud of? The Sabres have a variable pricing per game depending on who they play. A Toronto Maple Leafs game could be considered platinum, and one could be expected to pay $80 to sit in the nosebleeds. They also have the lowest level of "value" games against teams that are not marquee match-ups (Nashville Predators, Florida Panthers). These nosebleed seats would cost you $31. If I am not a season ticket holder, I don't think I would spend any money on a Sabres game because of the sub-par product on the ice.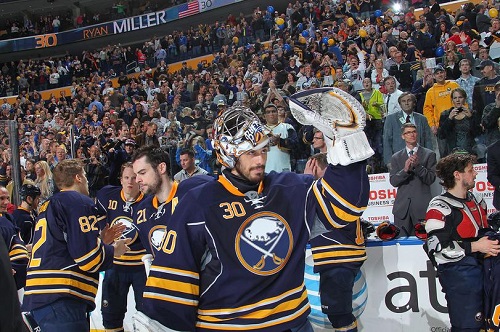 Back to Miller. Miller has been great in the community and I think if management showed they were a competing team, he would have no problem signing a new contract. But these aren't the Sabres teams that went to back to back Eastern Conference Championships right after the lockout. These Sabres teams barely make the playoffs and are not exciting one bit. Miller's home has been on the market for a few months now.
If Miller and Thomas Vanek both bolt after the season, the Sabres will have no star power left. With players like Ville Leino, Drew Stafford and Marcus Foligno leading the way, Sabres fans will be suffering, for a very long time.