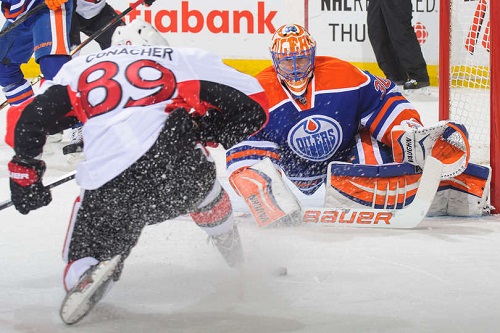 The Buffalo Sabres were quite busy on the last day of the trading deadline. Moves were made with a look to the future. A few players who were rumored to be moved, were traded and sent packing from Buffalo. Here is a look at what Buffalo did:
Claimed Cory Conacher off of waivers:
Buffalo's first move did not involve a trade. The Ottawa Senators had placed Conacher on waivers. Sabres GM Tim Murray picked up Conacher Wednesday afternoon. "He's a good person…he can skate" said Murray. Conacher should be very comfortable playing in Buffalo. He spent his collegiate career at Canisius College where he owns several school records including most career points (147) and goals scored (62). He should be available to play for the Sabres when they play the Florida Panthers Friday evening.
Sabres acquire D Nicolas Deslauries and F Hudosn Fasching from the LA Kings for D Brayden McNabb, F Jonathan Parker and two 2nd rd picks:
Brayden McNabb did not figure into the long-term plan for the Sabres. In 37 games for the Sabres, he had 1 goal and 7 assists. With younger defensemen in the system who have a lot of upside (Rasmus Ristolainen, Mark Pysyk and Nikita Zadorov) McNabb became expendable. In his AHL career, he is not much of a goal-scorer but he sure does get a lot of assists (20-30). Perhaps a change of scenery is just what McNabb needs.
Nicolas Deslauries is an interesting player. Originally a 3rd rd pick in 2009, Deslauries has stepped up his game. He has moved from defense to left wing where he has scored 18 goals this year with the Manchester Monarchs of the AHL. He is a very heavy hitter and has a good shot.
Hudosn Fasching is currently a freshman at the University of Minnesota. He is having a good year scoring 12 goals and tacking on 15 assists. Fasching has also played on the U.S Juniors team that took silver. He is a strong skater who kills penalties and is on the power-play.
Sabres acquire G Michal Neuvirth and D Rotislav Klesa from the Washington Capitals for G Jaroslav Halak and a 2015 3rd rd pick: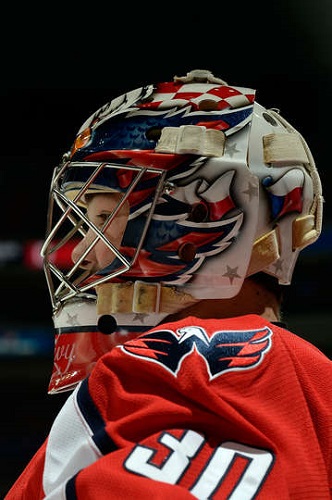 Jaroslav Halak has done pretty well in his NHL career thus far. It just seems he always gets bumped by someone else. Halak and Braden Holtby will be a good goaltending duo for Washington. Halak is 24-9-4 with 4 shutouts this season.
Michal Neuvirth is a solid goalie. He was a 2nd rd draft pick of the Capitals in the 2006 draft. His best year was 2010-2011 where he went 27-12-4 with a 2.45 GAA. It is not sure what the future holds for Buffalo goaltending but he will get his chances to be the starter. He has fast reflexes and has the potential to be a top tier goalie.
It's hard to imagine that Klesa has been in the league for about 10 years now. What was once a promising defensemen, now is an okay player. He can shut down opposing offenses but lacks the scoring touch. He also has not played more than 70 games in a season since 2007-2008.
Sabres acquire F Torrey Mitchell, two 2nd rd draft picks from the Minnesota Wild for F Matt Moulson and F Cody McCormick:
Mitchell is essentially McCormick. 3rd/4th line guy who is a very good checker. Plays about 10 minutes a game and can kill penalties. Mitchell is also good on face-offs but only has 9 points this season.
Moulson has scored 30 or more goals 3 times in his career. Very good scorer, should do well with Jason Pominville and/or Zach Parise. Could be the piece that helps Minnesota to stay in the playoff race.
Buffalo is in total rebuild mode. GM Tim Murray got a lot of value for the trades he made. It's going to take the Sabres probably 3 years or so to be really good. With all the draft picks the Sabres have the next few years, they need to hit on some and hope for immediate contributions. It will be interesting to see if this works out but if it doesn't expect more turmoil and long seasons.