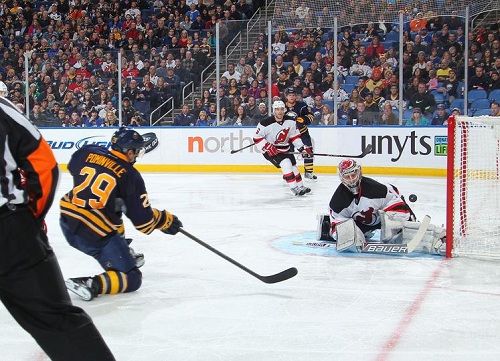 The Buffalo Sabres earned three of four points this weekend with a shootout win over the New Jersey Devils and a shootout loss to the New York Rangers. They have now taken seven out of eight points in their last four games. In addition, the team has climbed out of the Eastern Conference basement, moving up to 12th in the standings.
In the first game, Jason Pominville had two goals and a tally in the shootout to help Buffalo win 4-3 in a shootout to the Martin Brodeur-less Devils. Johan Hedberg got the start for New Jersey. Jochen Hecht scored his first goal of the season and his first since December 30, 2011. Cody Hodgson had two assists (both on Pominville's goals).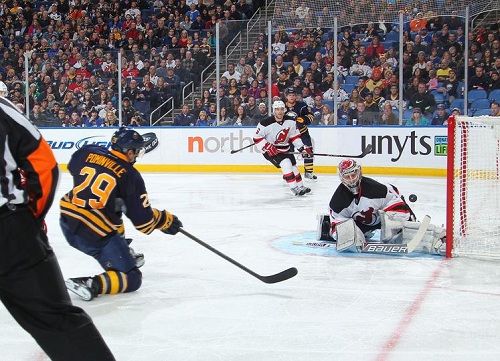 Brian Flynn made his NHL debut, replacing injured Thomas Vanek. Flynn had recorded 32 points (16 G, 16 A) for the Rochester Americans this season.
The power play continues to struggle for the Sabres. Against New Jersey, they went 0-6 with the man-advantage.
On Sunday, the Sabres were on the wrong side of the shootout, losing to the New York Rangers 3-2. Rick Nash was dominant for the Rangers, notching a goal and an assist in regulation along with scoring in the shootout. Ryan Callahan also beat goaltender Ryan Miller in the shootout and Buffalo couldn't score.
Drew Stafford opened up the scoring in the 2nd period with Mikhail Grigorenko getting the assist. It was Stafford's second goal of the season.
The Rangers, taking advantage of penalties to Andrej Sekera and Patrick Kaleta, were able to score two power play goals less than 45 seconds apart to go up 2-1.
Nathan Gerbe would help tie the game later in the third period. With the Sabres short-handed, Gerbe knocked the puck away along the boards to Steve Ott, who deked the defender and found an open Gerbe by the net. Gerbe let go a wrist shot to beat goaltender Henrik Lundqvist and it was 2-2.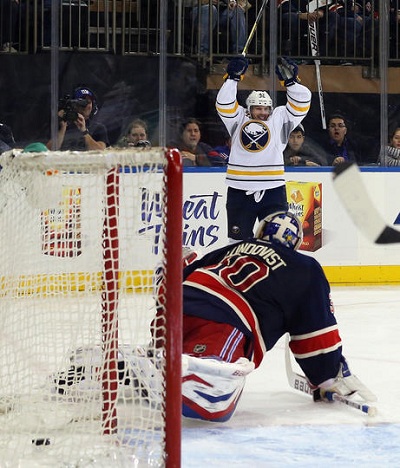 Unfortunately, the Sabres wouldn't have any shootout magic on this night. The Rangers converted on both chances and the Sabres were stopped on both of their opportunities.
Notes:
Mikhail Grigorenko had an assist in both games this weekend.
Nathan Gerbe has three goals in his last three games.
Thomas Vanek missed his 2nd straight game due to an upper-body injury.
The power play is now 9/84 (10.7 percent) on the season, which is last in the NHL.
The Sabres will play their second road game in a row when they face the Carolina Hurricanes on Tuesday.