With the NHL Draft only a few weeks away, I've begun to think of some trades that I'd like to see for draft day. The Buffalo Sabres have two first-round picks (8th and 16th overall). Just what will happen? Here is what I am hoping for:
Trade 1
Buffalo trades the 8th overall pick and goaltender Ryan Miller and Brayden McNabb to the Colorado Avalanche for the 1st overall pick. Miller needs a change of scenery and Colorado is just the place. He would also be an upgrade over Jean-Sebastien Giguere (.908 Sv %) and Semyon Varlamov (11-21-3). Miller would also be closer to California where his wife lives (she's an actress). Remember, new Avalanche coach Patrick Roy was 30 when he was traded from the Montreal Canadiens to the Avalanche.
With this pick, I would take D Seth Jones. He is a very good skater and is a good defensemen. Might not score that many goals but contributes with assists. With his size (6'4", 205 lbs) he can be anyone's shutdown defensemen of the future.
Trade 2
Buffalo trades the 16th pick and Thomas Vanek to the Florida Panthers for the 2nd overall pick. Let's face it, Buffalo does not want to end up like they did a few years ago with Daniel Briere and Chris Drury (both walked to free agency). The Sabres are trying to maximize their value by getting something for Vanek and Miller. Vanek will be 30 in January. He has scored 20 or more goals in 8 seasons in the NHL. He averaged a little more than a point per game this season.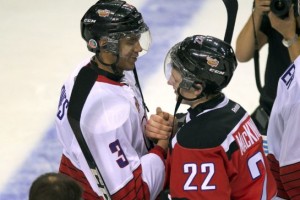 With this pick, I would like the Sabres to take C Nathan MacKinnon. He's the type of guy the Sabres need down the middle. MacKinnon is a great skater who has a lot of power in his game. He could be an elite forward in the very near future. This season, he had 32 goals and 43 assists in 44 games for the Halifax Mooseheads in the QMJHL. He is the real deal.
If these two deals happen, I'm sure all Sabres fans would be happy about them. To get the top-2 picks in the draft would be something.