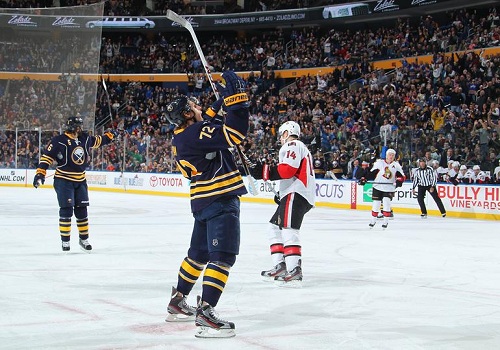 The Buffalo Sabres won their second game in a row Friday night as they defeated the Ottawa Senators 4-2. The win allowed them to move within 4 points of the final playoff spot with 10 games to go. Ryan Miller had 35 saves in the win.
Buffalo would get on the scoring board first as Adam Pardy sent a cross-ice pass to Luke Adam who beat goaltender Robin Lehner top-shelf to take a 1-0 lead. Mike Weber also assisted on the goal. Ottawa would respond later in the period as Mark Methot let go a shot that beat a screened Ryan Miller to tie it at one each. Jakon Silfverberg and Mika Zibanejad with assists.
Ottawa would extend its lead early in the 3rd period on another goaltender screen. Eric Gryba would beat Miller as Zibanejad and Chris Neil assisted on the goal.
Buffalo would not give up though. A Mark Pysyk shot was deflected by Steve Ott and into the back of the net to make it a 2-2 game. Adam Pardy also assisted on the goal. The Sabres would get the next goal as a Jochen Hecht shot went wide of the net. Brian Flynn picked up puck and beat Lehner with a back-hand to take a 3-2 lead. Weber also with an assist. The cheering wouldn't stop there. Jochen Hecht sent an errant backhander toward the net and it somehow slipped past Lehner to go up 4-2.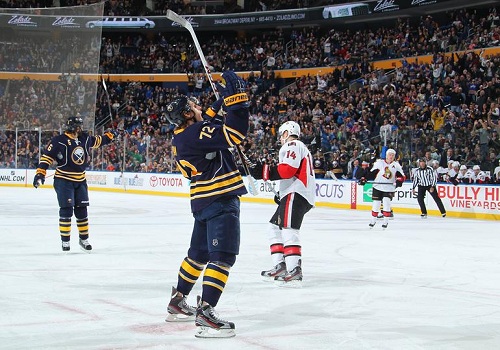 Game notes:
Luke Adam's goal in the first period was his first NHL goal since Dec 2011.
Ryan Miller passed Dominik Hasek on the Sabres all-time goaltender list for saves.
Steve Ott has been named an alternative captain with the departure of Jason Pominville.
Buffalo plays at home Sunday vs. the New Jersey Devils.