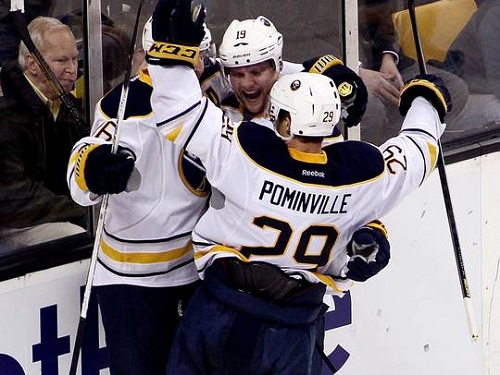 Just like in grade-school, the report card will either make or break someone. In the NHL, winning a lot of games, balanced scoring and great goaltending will probably garner a lot of A's. Through games played until February 9th, the Sabres have a 5-6-1 record. Here is what I am giving the Sabres through the first quarter of the shortened season.
Forwards: C-
The Sabres have scored 38 goals so far this season. The top line of Thomas Vanek, Jason Pominville, and Cody Hodgson has 22 of those. The only other forward of late who has done any scoring is Tyler Ennis. $ 4 million man Drew Stafford has 0 goals, that's right, 0 goals! Mikhail Grigorenko has 1 goal but at times has been playing with less-skilled offensive players. John Scott is only in the line-up for enforcer purposes which is fine. However, is he worth having around if he only averages less than 4 minutes a game? I don't think so and I think a healthy Cody McCormick or Patrick Kaleta would be better played in Scott's spot. Steve Ott has been decent and has provided grit as well. Ville Leino has been hurt all season and may have season-ending surgery.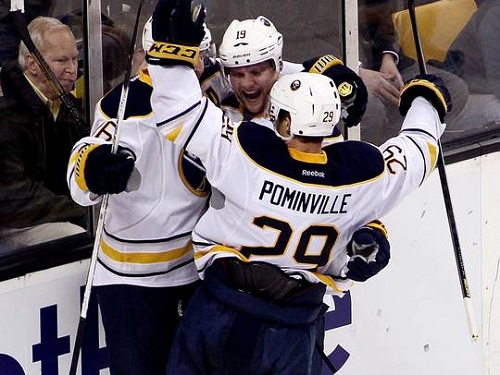 Defensemen: D+
Few reasons why the defensemen of the Sabres are receiving such a low grade. Tyler Myers has been playing awful in this shortened season. He has 1 goal and is a lowly -9 (tied for league worst). Myers has looked shaky, seems clueless on the ice, and has made numerous mistakes. It doesn't seem that long ago that he was the Calder Trophy recipient, for being the league's top rookie. Both Robyn Regehr and Andrej Sekera have missed time due to injuries. Christian Ehrhoff has been the most consistent and most reliable defensemen this season. The Sabres have also allowed the most goals in the league. While this is also part of the goalie's problem, the defensemen need to block more shots, and take-away opportunities from opposing teams.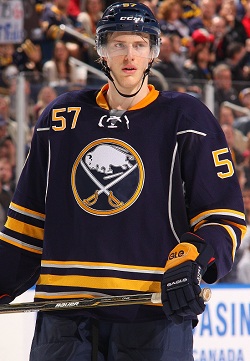 Goaltending: D-
Some people would say that Ryan Miller is an elite goalie. Please tell me how a 5-4-1 record, 3.07 GAA, and .909 Save Percentage makes him elite? While he has made saves to keep the Sabres in games, he has just allowed too many goals. With the Sabres only having one scoring line, giving up 4 or more goals a game cannot be overcome on a nightly basis. For $6.25 million, he is not playing up to what he should be.
Back-up goalie Jhonas Enroth has not been much better. In 2 starts this year, Enroth is 0-2-0 with a 4.75 GAA and .847 Save Percentage. Enroth has not won a start since beating Washington 5-1 on November 26, 2011. Coach Lindy Ruff has been hesitant to play Enroth due to his struggles. Early on in the season, Ruff said he was hoping to start Enroth for 10-12 games. Enroth will have to play better in his next few starts. It is possible Enroth could be sent down to Rochester of the AHL for a conditioning assignment.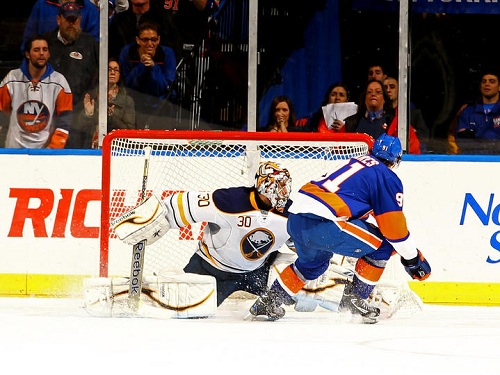 Special Teams: C-
Let's first start with the power-play. The Sabres currently are 7-45 this season. Vanek has 4 of those goals and 3 others have 1. There are times when the Sabres generate a lot of shots. There are also times when errant passes, and trouble penetrating the zone. I say, put Grigorenko on the power-play and let him play some minutes with more skilled players.
The Sabres penalty-kill is not much better. It currently sits with a 79.2% success rate. Like the power-play, there are times when the Sabres will kill all the penalties in the game and others when they allow a few power-play goals. At one point in the season the Sabres were the most penalized team in the league. They are now 6th with 183 penalty minutes.
Overall, not a very good first quarter for the Sabres. The top line of Vanek, Pominville, and Hodgson has been a blessing for the team. The Sabres have won games 11 and 12 on the schedule so hopefully going into the 2nd quarter of the season, things will turn around.