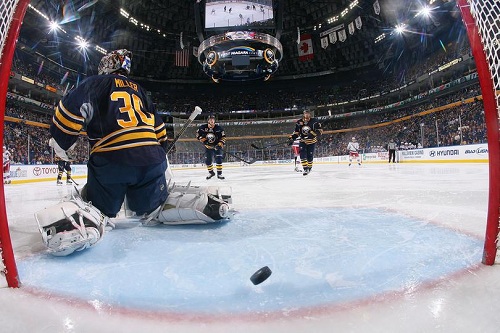 All the Buffalo Sabres had to do was beat the New York Rangers Friday night. A loss would be unacceptable, a loss would mean there would be no post-season. Not only are the playoffs out of the question, the Sabres were embarrassed at home, losing 8-4. Brad Richards notched his first career hat-trick in the blowout.
The game was scoreless for nearly 19 minutes. Then the Rangers did the unthinkable, they scored 3 goals in 74 seconds. The Rangers first 2 goals were a result of the puck bouncing off a Sabres player skate as Carl Hagelin and Brad Richards scored those. With just seconds remaining in the period, Sabres goaltender Ryan Miller went to clear the puck. Unfortunately, he whiffed and Ryan Clowe put it in the net to increase the lead to 3-0.
The Rangers kept lighting up the scoreboard. Anton Stralman beat Miller to make it 4-0. Miller was pulled after the goal and replaced by Jhonas Enroth. It did not get any easier for Enroth. The very first shot he faced, he was beat by Richards and the lead was now 5-0. Rick Nash chimed in a goal to put the Rangers up a half-dozen.
Thankfully, the Sabres would stop the bleeding a little bit. Cody Hodgson and Nathan Gerbe scored goals, 6 seconds apart and it was now 6-2. Hodgson's goal was his 15th of the season, while Gerbe it was his 6th. About 30 seconds after the Gerbe goal, Ryan Callahan beat Enroth to make it 7-2 Rangers. Drew Stafford, whose scoring touch has just about disappeared this year, was able to beat goaltender Henrik Lundqvist and it was now 7-3.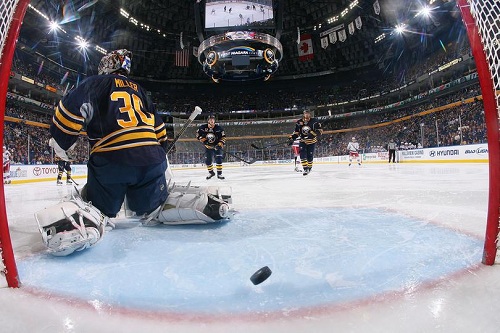 Richards would complete his hat-trick about midway through the 3rd period. Richards took a pass from Ryan McDonagh who then let a shot go from the face=off circle and beat Enroth. Mark Pysyk would score his first career NHL goal on the power-play with about 40 seconds left.
Game Notes:
Brad Richards scored his first career hat-trick.
The Rangers had 12 players to score at least one point.
Christian Ehrhoff and Andrej Sekera each finished with a game worst -5.
Mikhail Grigorenko was a healthy scratch since returning to the Sabres.
Ryan Miller was cheered when he made a save after a rough start. It reminds me of Patrick Roy and his last game playing for the Montreal Canadiens.