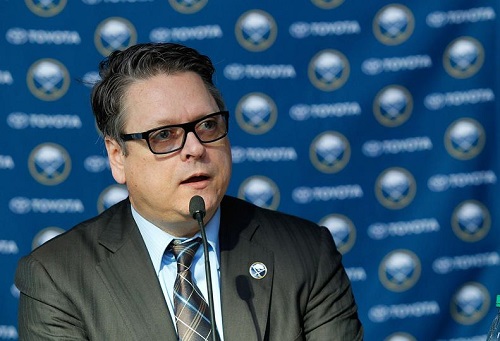 After a long and exhaustive search (nearly 2 months), the Buffalo Sabres finally have hired Tim Murray as general manager. Murray had been with the Ottawa Senators since 2007 in the role of assistant general manager. Along with the aforementioned duties, he has also served roles of scout and director of player personnel.
With over 20 years of experience, Murray is the right guy for the job. He has had a hand in the drafting stars Corey Perry and Ryan Getzlaf while in Anaheim. While in New York, it was Marc Staal and in Ottawa it was Erik Kaarlson. That bodes well for Sabres fans that are waiting for the next superstar player to wear blue and gold. The Sabres will have several high 1st and 2nd round picks in this year's draft which would definitely benefit Murray in making the Sabres a contender.
One of the biggest issues facing Murray is what to do with Ted Nolan? The Sabres have been playing a lot better under Nolan. They've played with more heart and desire than they did under Ron Rolston. Ryan Miller is playing like an elite goaltender. However, the Sabres are still dead-last in goals for. It is tough to in games when you are averaging less than 2 goals a game. Buffalo is the only team to not score 100 goals yet at this point of the season. Perhaps if Nolan does a very good job, he stays. Maybe Murray will wait until the end of the season to find his own guy and put him in place. Would that be fair to the veterans on the team? If Murray goes with a new hire, that would put the Sabres at 4 coaches since the last lockout. It is tough to learn a new system when the system is changing every few months.
If Murray's past is any indication of what might happen, then the Sabres could be a very good team soon. He has an owner who is willing to spend money. Pat Lafontaine, President of Hockey Operations believes in him (hence why he hired Murray). Murray will have an interesting time at the trade deadline. Does he sign Miller, Matt Moulson and Steve Ott to contracts? Or trade them for draft picks?