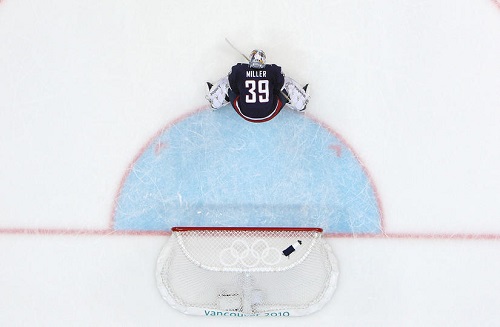 The Buffalo Sabres will be well-represented in this year's Winter Olympics held in Sochi, Russia. The team will have four Olympians play for three different countries. In addition, head coach Ted Nolan will coach the Latvian team. How have they done so far and could they be traded after the deadline are important questions. Let's take a look and see:
Ryan Miller:
The Sabres starting goaltender for the time being will look to be between the pipes for Team USA. Miller has played well for the Sabres. He has posted a .923 SV Percentage along with earning 14 wins. Miller led USA to a Silver Medal in the 2010 Vancouver Olympics where he was outdone once again by Sidney Crosby.
There has been a lot of speculation as to whether or not Miller will be traded by next month's deadline. He has been waiting to see what the Sabres plans are and see if he is in the mix. If the Sabres' top brass don't have this goaltender in their future, look for him to be traded. Possible suitors include the Minnesota Wild, Washington Capitals and St. Louis Blues.
Jhonas Enroth:
Enroth is probably the least luckiest goalie in the NHL. He has started 18 games and has one win. Yes, that is not a typo, one win. That win happened in October against the Florida Panthers. Despite only having one win, Enroth has a G.A.A under 3.00 and sports a .905 SV Percentage. He also led Sweden to gold in last year's World Championships.
Henrik Tallinder:
Joining Enroth on the Swedish team is defenseman Henrik Tallinder. Tallinder, like many Sabres are struggling this year. He is -15 and has 7 points. He does bring Olympic experience as he was on the 2010 team. In addition, Tallinder played on last year's Gold Medal World Championship team. With his years of NHL experience, he will be ready to play in Sochi.
Zemgus Girgensons:
Zemgus Girgensons will be making is Olympic debut while playing for Lativa. The Buffalo Sabres 2012 1st rd pick is having a good season so far. Fans enjoy his blue-collar work ethic on the ice and is a bright spot for the Sabres for the future.
Coach Ted Nolan:
Ted Nolan is not a native Latvian. However, this does not deter his coaching style and passion for the game of hockey. Nolan was asked to coach the Latvian national team soon after being fired by the New York Islanders in 2011. Latvia was a long shot to make the Olympics but under the guidance of Nolan, prevailed and will be looking to do some big things this year.