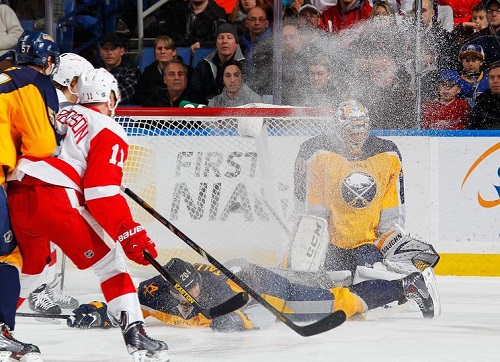 The Buffalo Sabres extended their losing streak to 4 games after losing to the Detroit Red Wings 3-1 at the First Niagara Center Sunday night. Detroit was unfazed with the fact that Pavel Datsyuk missed the game due to injury.
Buffalo opened up the scoring in the first period. Drew Stafford stole the puck from the Wings and made a great pass to Cody Hodgson. Hodgson faked going around the net and slid the puck past a sprawled out Jonas Gustavsson.
Detroit would tie it up in the early stages of the 2nd period. Daniel Alfredsson made a pass to Darren Helm. Helm let one go and beat goaltender Ryan Miller.
A Tyler Myers cross-checking penalty allowed the Wings to go on the power-play. "We do things that are characteristic of losing" said Sabres coach Ted Nolan They took advantage of it. Henrik Zetterberg and Niklas Kronwall assisted on the Johan Franzen goal. The goal for Franzen was his 6th of the season. It was Zetterberg's 700th career NHL point. Detroit would end up 1-3 on the power-play.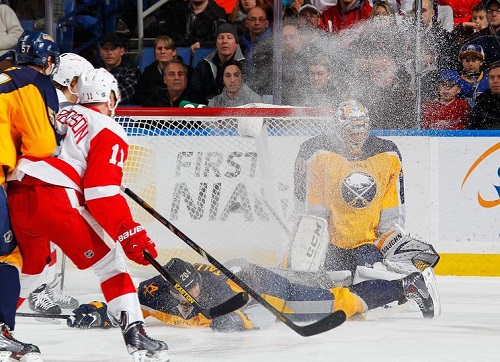 Alfredsson would later add an empty net goal in the last minute of the 3rd period.
Miller made 33 saves in the losing effort.
Buffalo's next game will be Wednesday when they take on the Montreal Canadiens.